Bella Hadid and The Weeknd Spotted Together on Yolanda Hadid's Farm
Bella's mom shared photos of the couple.
---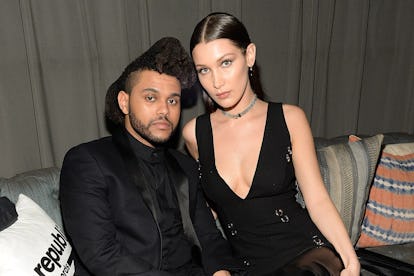 Kevin Mazur/Getty Images
It looks like Yolanda Hadid is just as excited about Bella Hadid and The Weeknd getting back together as some fans are.
The couple spent the weekend at Yolanda's Pennsylvania estate, where they cozied up with horses and buffalos (and, it appears, with each other). On Sunday, the former Real Housewives of Beverly Hills star went full Instagram mom, and shared a photo of Bella in the barn to her Instagram story along with the caption, "Home is a feeling…" She also posted a shot of The Weeknd smiling in front of some of her animals.
Bella and The Weeknd, who just recently started refollowing each other on the social network, also shared some proof of their weekend to their own accounts. Bella posted a picture of The Weeknd coming down the staircase in her mom's home, and The Weeknd put up a snap of himself getting friendly with some mini horses.
Bella and The Weeknd have been rumored to be back together since they were maybe spotted kissing at Coachella back in April, and their recent appearances on each other's social media feeds have helped fuel the gossip fire. They recently traveled together to Tokyo, where they snapped photos of each other in the Mori Building Digital Art Museum.
They may not technically be Instagram-official just yet, but showing up on your maybe-girlfriend's mom's account has gotta count for something, right?
Related: Bella Hadid Posed Topless in a Straw Hat in Mexico