Bella Hadid and The Weeknd Are Reportedly Back Together and "Inseparable"
The cozy exes have apparently made it official again.
---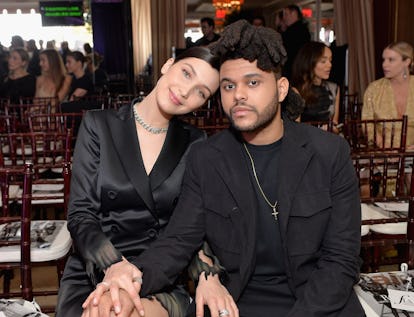 Stefanie Keenan/Getty Images
Dark days for fans of Bella Hadid and The Weeknd are over. Nearly two years have lapsed since they broke up in November 2016, but E! News has reported that a source close to the couple says they are now "exclusively dating and are in a great place."
It's big news that the pair are officially back together, but the revelation shouldn't come as a huge surprise to those who have been following their romance.
Hadid and the Weeknd, or Abel Tesfaye, as he's known offstage, have been spotted together around the globe looking chummy over the past few months.
Those who have been following Tesfaye's romantic endeavors will remember that he dated Selena Gomez for a few months in 2017. That old flame evidently told Tesfaye a lot about his feelings for Hadid. "Abel realized once he started dating around, that he actually is still in love with Bella, and they reconnected," the same source told E! News. Meanwhile, the source said that Bella "never really lost feeling for Abel and had hope they would eventually get back together."
Even when Hadid and Tesfaye parted ways in 2016, things never got ugly. In her cover story with Teen Vogue just a couple short months after the breakup, Hadid opened up, saying, "I'll always respect him, and I'll always love him. Sometimes you want to be sad about it or handle it differently, but at the end of the day, you never want to burn a bridge that you've fought so hard to build."
The reunited couple have been "secretly seeing each other" for a few months, first spotted together in Cannes in May and most recently in Tokyo just this week. "Things have been going really well," the source told E! News. "They have been inseparable and have been truly working with each other's schedules to make it work," adding that they've been jetting to see each other as often as possible and haven't gone more than a couple of weeks apart at a time.
"Everyone around them always knew it was a matter of time, and knew the undeniable bond that they had when they were together," the source added. "They always drifted back in the same places, so it was a matter of time before they decided to commit to each other again."
And with the way 2018 is going, we wouldn't be surprised if an engagement was just around the corner.