Ben Affleck and Jennifer Garner Were Not Present At Their Daughter's 12th Birthday Party, But Marie Antoinette's Head Was
The tween may be staying out of the spotlight, but her mischievousness is getting increasingly public.
---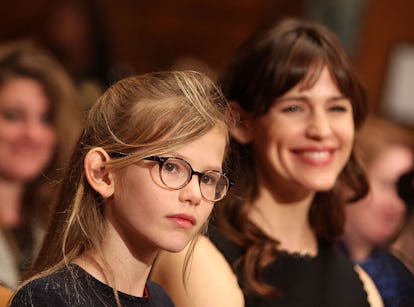 Paul Morigi/Getty Images
Violet Affleck—Ben Affleck and Jennifer Garner's oldest child—has so far remained largely out of the spotlight, and rightfully so, given that she's not even a teen yet and her mom is part of the reason a law passed in 2013 to protect celebrities's kids from being harassed by the paparazzi in California. Still, Violet seems to be sassy enough that while she's remained out of the public eye, her penchant for mischief hasn't—even (and seemingly especially) when it comes to her parents.
This summer, just a couple of months after her parents called their divorce off and then said it was back on again, and Affleck spoke out publicly about going to rehab for alcoholism, Affleck gave a speech that showcased just how cutting Violet's commentary can be. While accepting a humanitarian award for his work with his nonprofit Eastern Congo Initiative, Affleck told the crowd: "When I told my oldest daughter that I was getting this award, she said, 'Yeah, Dad. Mom already has that one.'"
Violet was right—her mom got the award last year for her work in promoting children's education—and that sass has remained pretty much only thing known about about her until this week. Whether they were both too busy to attend—or she preferred not to invite them, as we'd prefer to think—Violet celebrated her 12th birthday last Friday sans either humanitarian. Instead, she dined with a group of friends and a nanny at what Page Six called a "Willy Wonka-esque restaurant" in Los Angeles: Barton G., an establishment where gimmicky dishes like a salad with a packets of seeds for your garden and coconut cake delivered with a handful of rubber duckies and a fake faucet are par for the course. (Sample Yelp review: "I will start off by saying this was the most unique dining service I've experienced.")
Among Violet's choices from the illustrious menu were phyllo lobster pop tarts, which were delivered to her table in a toaster. Most notable of all, however, was her choice in dessert, which seems to confirm that Violet is a indeed a budding badass: She ordered a towering, nearly three-feet tall cotton candy confection in the shape of Marie Antoinette's disembodied head, which, as usual at the restaurant, presumably wore sunglasses and was presented on a platter also carrying candies and a milkshake.
Adam Sandler reportedly brought his kids to the restaurant last week, too, but their dessert order was instead the enormous tart in the shape of a $100 bill, which comes complete with a safe. Without parental supervision, however, Violet went for the grizzlier option. There's no word yet on what mom and dad have made of that decision, nor why they skipped out on the festivities, but they can hardly blame their daughter for a bit of mischief. Especially when on the day in question, Garner did not post an Instagram dedicated to her daughter—understandable enough in terms of protecting her privacy—but did in fact post one promoting her new film The Tribes of Palos Verdes with the hashtag "#i❤️playingabadmom."
Related: Surprising Trend Alert: From Jennifer Garner to Martha Stewart, Celebrities on Instagram Are Obsessed with Their Poultry
Ben Affleck Takes W's Screen Test: