RIP Ben Cho: Chloë Sevigny, Cat Power and More Remember the Designer and Downtown Darling
Ben Cho, a fashion designer, DJ and artist who was synonymous with a certain era of downtown nightlife has passed away.
---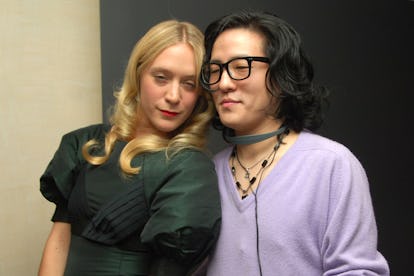 Patrick McMullan
For much of the early 2000s, Ben Cho, a fashion designer, DJ and artist, seemed to be everywhere in downtown New York. His shows attracted front rows that included the likes of Chloë Sevigny and Mary-Kate Olsen. He was a constant at downtown clubs, and DJed his own The Smiths and Morrissey-themed night at the nightclub Sway. He was also noted for administering stick and poke tattoos to a who's who of New York cool kids.
His spirit may be best summed up through what he sent down the runway: adventurous, fun and uncompromisingly cool. His looks included outfits that were part dress, part umbrella, crochet dresses that came complete with a pair of mannequin hands and knitting needles, and eye-catching sculptural embellishments. The San Jose, California-born son of Korean immigrants, one an opera singer and the other a NASA scientist, Cho was noted for never giving in for the commercial expectations that come with being a a designer on the verge.
"New York fashion has really become synonymous with clothes that are like chic picnic dresses," he told The New York Times of his vision in 2007. "I think people are sick of everything basic and safe."
In the same article, he recounted the advice he gave to Kate and Laura Mulleavy, the sisters behind Rodarte, when they were just starting out: "Don't let them make you expand too fast. Don't let them force you to make conventional pieces. Everyone is always telling you to make things more basic. Protect yourself from that …There's always room for wild clothes."
Over the weekend, word spread on social media that Cho had passed away, and while details are not confirmed, many of his famous friends and fans shared their condolences.
In an unmistakable tribute, Chloë Sevigny, a longtime friend of the designer and frequent front row presence at his shows, offered up a few lyrics from Morrissey's song "Late Night, Maudlin Street."
Chan Marshall, the musician who records under the name Cat Power, wrote a lengthy, heartfelt poem for Cho on Instagram. "You are the sweetest person I have ever met," it concluded. "'To all my friends' swells so bittersweetly in my heart out through my eyes."
The photography Ryan McGinley was one of the first to publicly comment on the news. "Ben, beautiful soul, talented designer, creative genius," he wrote. "Morrissey comrade, vegetarian, handsome devil. I'll miss 'your skin and your blood, and your bones…and when we go, we all will go, so you see, you're never alone.' Love you Cho."
The Misshapes, the DJ and party promoter crew made up of Leigh Lezark, Geordon Nicol, and Greg Krelenstein offered a slideshow of memories.
Humberto Leon, the creative director of Opening Ceremony and Kenzo, wrote, "He made you feel like the king of the world, was the funniest and smartest, if you were Hopa, tried to figure out whether you were 'Pale Aje' or 'Animale', and played Alsatian Cousin for you, even though it wasn't the best club song to dance to. He welcomed so many people to NYC with open arms, brought everyone together, a lot of my best friends today, and did the same for hundreds of people who landed in the city."
Tess Brokaw, who wore one of his most memorable designs on the runway, and noted, "In 2007 I got to work with Benjamin Cho, someone f—— genius and talented beyond words."
The DJ Junior Sanchez simply wrote, "#Rip #BenCho."
Fashion editor Jay Massacret proffered a page from one of Cho's old zines.
Cory Kennedy, an It girl of Cho's time, shared a photo from one of his shows.
Model and style director Jessica Joffe wrote, "This boy Ben was a special creature. He made all of New York dance to sad, amazing, mean and beautiful songs from 1980s Manchester and dressed the pretty girls in T-shirts with giant hearts cut out and clothes no one else thought of and he was good."
"We are lying on our backs on the floor of your bedroom on 7th street, staring at the ceiling, listening to "on some faraway beach" on repeat, reading each other's minds, forever and ever …..please rest with peace Ben. you deserve this peace. your love was like no other," wrote the artist Brian DeGraw.
See what's trending in W video: