Natasha Lyonne, Humberto Leon and More Recall Their Late Friend Benjamin Cho: "He Was Just Part of the Nightlife"
Friends and peers of the designer Benjamin Cho, who died this week at 40, recall his charm, wit and genius, and the anecdotes from a bygone era of New York nightlife.
---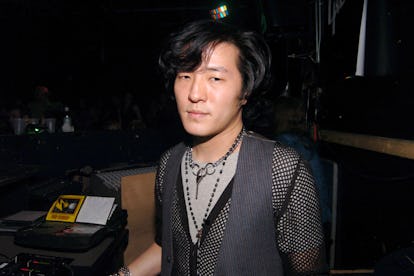 Patrick McMullan
Over the weekend, news spread through word of mouth and social media that designer and downtown personality Benjamin Cho—Ben to his friends—had died. For a certain crowd and generation of New Yorkers, Cho was part of the fabric of the city, an ubiquitous fixture of many scenes whom everyone seemed to know. A designer first who came of age alongside other uncompromising talents like Susan Cianciolo and Miguel Adrover, Cho was also an artist, a downtown raconteur, a bon vivant, a DJ at his popular Smiths night at Paul Sevigny's Sway, and a general mischief-maker who, in the words of designer Humberto Leon of Opening Ceremony and Kenzo, "loved to play games at the drop of a hat." His death came as a shock not only because of his age—he was only 40—but because he was one of those local characters you expected would always be around to add color and creative sparkle to the city, his adopted home. A native of California, Cho's romantic view of the world was shaped by the odd couple who were his parents, an opera singer and a physicist, but like many New Yorkers he was a self-made man, someone who "invented himself from scratch," as the artist Dan Colen recalled. It was just eight years ago, the artist Dash Snow, another member of the downtown set, passed away and now, with Cho's death, the city has lost another beloved, young force of nature. Here, the motley crew who made up his inner circle reminisce for W about the Ben Cho they knew.
Humberto Leon
I met Ben when I was a teenager, during my prime adolescent years. It was on my first trip to New York, and I actually stayed with him because he and my best friend at the time went to high school together. I think ever since that moment, I realized that there was something crazy special about him. He was somebody who could really command a room, and make everyone laugh, and just really make you feel like a best friend, extra special, within your first meeting. I feel that's probably a shared sentiment with a lot of people. I think that he had this enormous generosity to him; he would always pitch in and help out. Whether it's cooking a pot luck to a photo shoot to working on a collection, he was always there to give a helping hand. He was a super funny person who loved to play games at the drop of a hat. He could handle anything, whether it was some serious situation during a fashion show, he would be the person who would break out a smile, whenever those moments were. In many ways, he introduced every person who is important to him to each other.
Dan Colen
Through his ideas he brought so many different people together. He blew all our minds. He invented himself from scratch and through love, labor and inspiration. H broke barriers and opened people's eyes to knew ideas. He made people care about the things he thought were interesting, the things that touched him—we had never seen that before. He was simply the most talented man I ever met: obviously his fashion was way ahead of its time but he could do anything. He would cut my hair, give beautiful tattoos, make me clothes, make the most delicate drawings. He was truly one in a million.
Olivier Zahm
The creative scene 10 years ago was very friendly. It was a community of people and Ben created for that community; he was a direct mirror of the friends and family around him. Ben's fashion was not just "fashion," it was very personal and emotional. His shows were just like friends coming to see him. He was creating a phantasmagoria that was more than clothes. It was a spectacle, a performance and it wasn't too pretentious, not too arty, not too commercial, not too crazy. It was very accessible, he was open to every woman. He was never successful commercially, but his clothes had an elegance of not caring, as if you sort of do it for the sake of fashion. It was an attitude of splendor. Even if I have no money, if I do everything myself, I play the game of fashion for its purity. Ben was someone who showed up and you had no idea he was coming. He was not predictable. He wasn't someone you invited to dinner. To me, he was very '80s East Village, when people had no phones. You would bump into him at dinner, or at Beatrice Inn, at a friend's place. He was just part of the nightlife.
Cory Kennedy
When I first met Ben I was 16, and it was at his Smiths night at Sway. Before I became a total fan of his work as a designer, it was very evident he was an extremely special human being. You pretty much fell in love with his personality instantly. A kind, courteous, sweet, and passionate guy. So down to Earth, so extremely talented and was always, always, true to himself. I had a lot of respect for him. Losing Ben is an absolutely devastating loss for New York City. To quote The Smith, "Deep in the cell of my heart."
I can picture sitting with Ben in our shared 18th street townhouse listening to this Lou Reed song in the middle of the night, just killing time because that's what youth was like. These are the lyrics, which are hitting me hard now:
Now everybody knows that business ends at three
And everybody knows that after hours love is free
And you, you really are a queen
And I know, 'cause I made the same scene
I know just what you mean
Because you got that crazy feeling
You got that crazy feeling deep inside
I've had that crazy feeling, too
A Look Back at Benjamin Cho, Through his Fashion and His Friends
Gerren Taylor wearing Benjamin Cho Fall 2004 during Olympus Fashion Week Fall 2004 at The Maritime Hotel in New York City, New York, United States. (Photo by Thomas Concordia/WireImage)

Thomas Concordia
A model walks the runway at the Benjamin Cho Fall 2005 show during Olympus Fashion Week February 10, 2005 in New York City. (Photo by Matthew Peyton/Getty Images)

Matthew Peyton
A model gets photographed backstage at the Benjamin Cho Fall 2005 show during Olympus Fashion Week February 10, 2005 in New York City. (Photo by Bryan Bedder/Getty Images)

Bryan Bedder
A model walks the runway at the Benjamin Cho Fall 2005 show during Olympus Fashion Week February 10, 2005 in New York City. (Photo by Matthew Peyton/Getty Images)

Matthew Peyton
A model walks the runway at the Benjamin Cho Fall 2005 show during Olympus Fashion Week February 10, 2005 in New York City. (Photo by Matthew Peyton/Getty Images)

Matthew Peyton
A model walks the runway at the Benjamin Cho Fall 2005 show during Olympus Fashion Week February 10, 2005 in New York City. (Photo by Matthew Peyton/Getty Images)

Matthew Peyton
Model wearing Benjamin Cho Spring 2005 during Olympus Fashion Week Spring 2005 in New York City, New York, United States. (Photo by Thomas Concordia/WireImage)

Thomas Concordia
Model wearing Benjamin Cho Spring 2005 during Olympus Fashion Week Spring 2005 in New York City, New York, United States. (Photo by Thomas Concordia/WireImage)

Thomas Concordia
A model walks the runway at the Benjamin Cho Spring 2005 fashion show during the Olympus Fashion Week Spring 2005, September 10, 2004 in New York City. (Photo by Paul Hawthorne/Getty Images)

Paul Hawthorne
Chloe Sevigny during Benjamin Cho's show at Mercedes-Benz Fashion Week Fall 2007 at the Salmagundi Art Center in New York, New York. (Photo by Brian Ach/WireImage)

Brian Ach
Model wearing Benjamin Cho Fall 2007 during Mercedes-Benz Fashion Week Fall 2007at Salmagundi Art Center in New York City, New York, United States. (Photo by Brian Ach/WireImage)

Brian Ach
Model wearing Benjamin Cho Fall 2007 during Mercedes-Benz Fashion Week Fall 2007 in New York City, New York, United States. (Photo by Brian Ach/WireImage)

Brian Ach
Models backstage at the Benjamin Cho Fall 2008 fashion show during Mercedes-Benz Fashion Week Fall 2008 February 4, 2008 in New York City. (Photo by Astrid Stawiarz/Getty Images)

Astrid Stawiarz
A model prepares backstage at the Benjamin Cho Fall 2008 fashion show during Mercedes-Benz Fashion Week Fall 2008 February 4, 2008 in New York City. (Photo by Astrid Stawiarz/Getty Images)

Astrid Stawiarz
Chloe Sevigny attends the Benjamin Cho Fall 2008 fashion show during Mercedes-Benz Fashion Week Fall 2008 February 4, 2008 in New York City. (Photo by Astrid Stawiarz/Getty Images)

Astrid Stawiarz
Cory Kennedy attends the Benjamin Cho Spring 2009 Mercedes-Benz Fashion Week Spring 2009 at the Altman Building on September 9, 2008 in New York City. (Photo by Lorenzo Santini/WireImage)

Lorenzo Santini
Mary Kate Olsen and artist Nate Lowman attend the Benjamin Cho Spring 2009 collection during Mercedes-Benz Fashion Week Spring 2009 at the Altman Building on September 9, 2008 in New York City. (Photo by Lorenzo Santini/WireImage)

Lorenzo Santini
Leigh Lezark and Olivier Zahm attend the Benjamin Cho Spring 2009 Mercedes-Benz Fashion Week Spring 2009 at the Altman Building on September 9, 2008 in New York City. (Photo by Lorenzo Santini/WireImage)

Lorenzo Santini
Natasha Lyonne and designer Benjamin Cho attend Benjamin Cho Spring 2009 Mercedes-Benz Fashion Week Spring 2009 at the Altman Building on September 9, 2008 in New York City. (Photo by Lorenzo Santini/WireImage)

Lorenzo Santini