Finally, a Good Makeup Palette for the Woman on the Go
It's compact, it's cute and it's less than $100! All from cult organic beauty line Kirsten Kjaer Weis.
---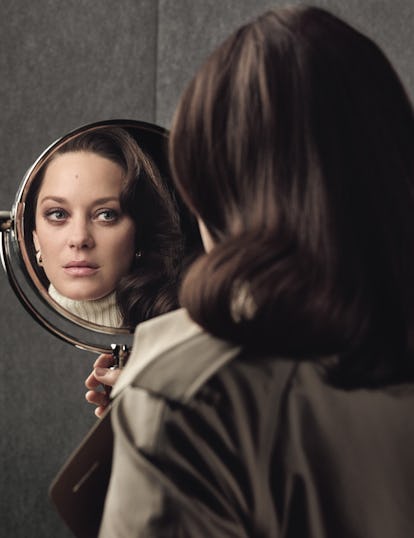 Photographs by Craig McDean. Styled by Edward Enninful. Hair by Orlando Pita for Orlando Pita Play; makeup by Peter Philips for Dior. Manicures by Michelle Saunders for Essie at Forward Artists. Set design by Piers Hanmer.
Makeup palettes tend to be either for super fans or for professionals. However, despite their advantages of convenience, they tend to fail those of us who put a premium on skincare over color.
Still, every busy woman could use could use the proverbial seasonal makeup bag to streamline meeting-packed mornings and back-to-back cocktail party evenings. That's exactly what makeup artist Kirsten Kjaer Weis had in mind when she created her eponymous organic and sustainable beauty line. Fans of Kjaer Weis know that her packaging is no joke.
The refillable entities are designed by Marc Atlan, the creative director who counts luxury labels like Dior, Tom Ford, and Prada as client. Like with any refined product, you feel the weight in your hands. The foundation is legendary, the blushes dreamy. But, with a few purchases under your belt, your makeup bag can quite heavy.
With those devotees in mind, Kjaer Weis asked design wiz Atlan to create a kit that would hold a cream foundation, two cream blushes (or highlighters), a lip tint, and two eye shadows. Ta-da! In essence, that is the Collector's Kit. Plus, it all comes in a neat, perhaps even adorable, little red book.
Not only is the resulting jewel box of a kit lightweight, but it is also practical. The magnetic pockets allows women to customize their kits, which is rare, as most kits come packaged with pre-selected product. For instance, you can include bronzer and highlighter or two blushes here. Most makeup palettes, on the other hand, are either all powder or all cream, but all the face products in Kjaer Weis's Collector's Kit are cream formulas that melt into the skin while the eye shadows come as a powder to prevent excessive creasing.
You can also play with these options, and change them as needed, and refill at your own pace. The kit closes with the satisfying click of "a Mercedes car door." That also means you can travel with it on the go, on the back of a Mercedes or a cab. Date books may have gone out of style, but Kjaer Weis is making a case for their return.
Kjaer Weis Collectors Kit, $76 (makeup sold separately), kjaerweis.com
The Ultimate Shopping Guide to the Best New Beauty Products for Fall