Best Coast Guitarist Bethany Cosentino Speaks Out About the Epidemic of Sexual Assault in the Indie Music Scene
Best Coast guitarist and lead singer Bethany Cosentino addresses sexual assault in the indie music scene and beyond.
---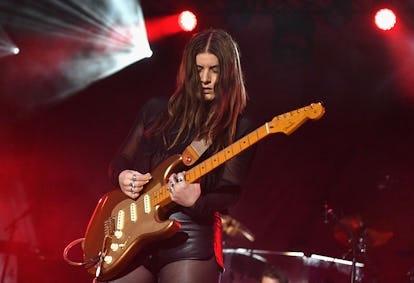 Mike Windle/Getty Image
In a Billboard op-ed, Best Coast guitarist and lead singer Bethany Cosentino addresses the proliferation of the "Me Too" phenomenon amongst her peers in the indie music scene and beyond, and examines why so many of these stories were underreported until now.
The musician questions the efficacy of social media activism in her op-ed, recalling a time that a former employee assaulted her, only to be told that he should be excused for his behavior. "I am a woman who was harassed and assaulted by a man she employed, only to be told his 'bad behavior' was just 'who he was' or something he did when he 'got too drunk.' I am a woman that experienced assault by a member of my own family as a child, a story I have only recently — at 31 years-old — felt brave enough to discuss with the people closest to me," she writes.
Cosentino is not the only member of the independent music scene to share her story of sexual assault by a bandmate or coworker. Alice Glass also recently shared that she was raped by her Crystal Castles bandmate Ethan Kath, and it was reported that Real Estate guitarist Matt Mondanile left the band due to allegations of sexual misconduct. Earlier this year, Ben Hopkins of the rock duo PWR BTTM was accused of sexually harassing other members of the LGBTQ community, and the band was subsequently dropped from their record label.
Dubbing 2017 "the year of male consequence," Cosentino prompts the rest of the music industry to realize that the recent outpouring of stories from women who have been sexually assaulted in various subsets of the entertainment industry, and the consequences the assailants may face have been ignored for far too long. "I would like to just address the fact that it took a large group of rich, white, famous women to broadcast this conversation loudly enough for some of those who have chosen to ignore these cries to finally pay attention," says Cosentino, echoing the statements Jane Fonda made earlier this month on MSNBC, insisting that the reason most people are finally paying attention to the recent barrage of reports is because many of the women assaulted by Weinstein are "famous and white and everybody knows them." Cosentino asks, "When women of color were screaming their tales of assault and endangerment, where were we? When trans women were telling us their stories, where were we? And why are there still men (and women) all over this country shaking their heads and saying, "well, there's two sides to every story?""
After Alyssa Milano spread the #MeToo hashtag on social media, encouraging individuals to come forward with their stories of sexual harrassment to demonstrate the magnitude of the issue of sexual assault not just in the entertainment industry, but everywhere, Cosentino found both gratitude and frustration with the responses to the assaults online. "Are our lengthy Instagram captions, hashtags and viral memes making real, physical change?" she asks in her op-ed. "Don't get me wrong, I am incredibly thankful for the internet at times like this because it does indeed hold people accountable. It provides a place for this conversation to be had and provides proof to those of us that feel scared and alone that we are not." Cosentino reminds that social media posts do not always predicate action that affects change, but it is vital that there has been a cascade of hashtags and comments online in response to the stories of sexual assault across industries if at least for the sheer importance of breaking a culture of silence.
Related: Paz de la Huerta's Allegations Against Harvey Weinstein May Finally Provide Enough Evidence to Convict Him
See W's most popular videos: