Beyoncé and Jay Z's Request to Film a Mysterious Video Project at the Colosseum Was Rejected
But they'll always have the Louvre.
---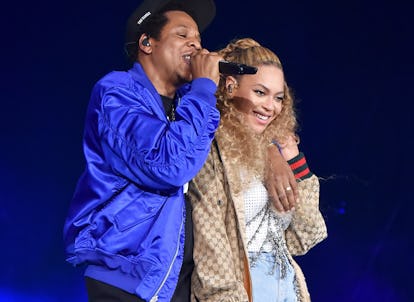 Kevin Mazur
Beyoncé and Jay Z are one of the most powerful couples in the world, but even that privilege comes with its limitations. As hard as it is to believe, someone actually rejected them, specifically, their attempt to film a mysterious video project at Rome's Colosseum.
Beyoncé and Jay Z had submitted a formal request to use the historic site as a background for a shoot on July 7 and 8, at the time that the duo were performing in the city's Stadio Olimpico on their On the Run II tour. The request was ultimately denied, though, because they didn't ask with enough lead time and the Colosseum was already accounted for on those dates; Italian scientist Alberto Angela had previously booked the space, according to the Italy Ministry of Cultural Heritage, as the Italian newspaper Il Messaggero notes.
You can't argue with first come first serve, and Beyoncé and Jay Z aren't trying to, either, as they've allegedly submitted a second request to film. (Although those dates have not yet been revealed, leaving an even thicker layer of fog around the whole project.) They're aware that the Colosseum is a "very complicated place."
Bey knows that firsthand, though, as she has already filmed inside of it. Back when she had just released her debut solo album, Dangerously in Love, she starred in an iconic Super Bowl ad for Pepsi alongside Pink and Britney Spears. The gladiator-themed commercial, where the trio reject emperor Enrique Iglesias' male gaze and instead toss him to a lion, was shot at the real-life venue, according to AdAge.
Still, Beyoncé and Jay Z had a lot less trouble locking down the Louvre for their "Apes**t" video. Impressively, it only took one month for the shoot to come together, though the pair had been building up a relationship with the museum over the past decade. "Beyoncé and JAY-Z visited the Louvre 4 times in the last 10 years," a museum spokesperson said in a statement to The FADER. "During their last visit in May 2018, they explained their idea of filming. The deadlines were very tight but the Louvre was quickly convinced because the synopsis showed a real attachment to the museum and its beloved artworks." Considering how much they pulled off in a just a month, imagine what they'd do with a longer lead time at Colosseum.