Beyoncé Fell at Coachella, But in a Very Beyoncé Fashion
Excellent recovery, though.
---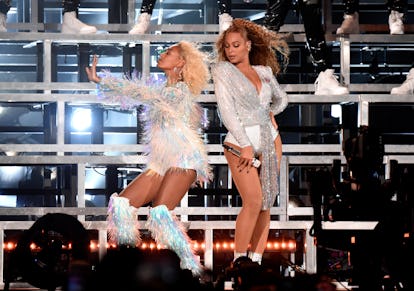 Photo by Kevin Mazur/Getty Images for Coachella
Let's make one thing absolutely clear: Beyoncé Giselle Knowles-Carter does not make mistakes. Never has, never will. When she says something that isn't true, the universe realigns itself so that whatever she said becomes true. When she misses a beat in a dance or a note in a song, the dance and the song change to be whatever Beyoncé did, and everyone else is wrong. And when she tried to pick up Solange onstage at Coachella and they both fell over, well, that wasn't a mistake either. That was an improvisation. That was performance art. That was Beyoncé experimenting with gravity and gravity failing her. Please don't think that any of what happened indicates a mess-up on Beyoncé's part, because she doesn't mess up. Ever.
So, what happened was that during her second weekend performance at #Beychella, Beyoncé, while experimenting with a new color scheme (pink!), seemingly attempted to lift her sister Solange and then they both kinda ended up on the ground, smiling and laughing and doing that air-bicycle move with their legs. They pretty quickly got up and walked, nay, strutted it off, with Bey encouraging the crowd to "give it up for my sister!" Whoever took the video had a good laugh about it, too.
It all went down (to the ground) during "Get Me Bodied," according to Vulture.
We can only imagine that this is what it looked like back at the Knowles household in Houston, Bey and Solange horsing around on the floor while their parents try to wrangle them into the car to go to dance class because ladies, you have superstar careers to build. It was probably cute then and it's definitely cute now.
Related: Beyoncé Announces Homecoming Scholars Award Program Following #Beychella
A Visual History of Celebrities at Coachella, From Kendall Jenner to Cameron Diaz
Cameron Diaz attends the Coachella Music Festival in Indio, California.

GETTY
Lindsay Lohan attends the Coachella Music Festival in Indio, California.

GETTY
Kirsten Dunst and Alexander Skarsgård attend the Coachella Music Festival in Indio, California.

GETTY
Dita von Teese attends the Coachella Music Festival in Indio, California.

GETTY
Sky Ferreira attends the Coachella Music Festival in Indio, California.

GETTY
Lily Collins and Kate Bosworth attend the Coachella Music Festival in Indio, California.

GETTY
Vanessa Hudgens attends the Coachella Music Festival in Indio, California.

GETTY
Danny Devito attends the Coachella Music Festival in Indio, California.

GETTY
Emma Watson attends the Coachella Music Festival in Indio, California.

GETTY
Brie Larson attends the Coachella Music Festival in Indio, California.

GETTY
Katy Perry and Rihanna attend the Coachella Music Festival in Indio, California.

GETTY
Agyness Deyn attends the Coachella Music Festival in Indio, California.

GETTY
Sofia Richie attends the Coachella Music Festival in Indio, California.

GETTY
Diane Kruger attends the Coachella Music Festival in Indio, California.

GETTY
Kendall and Kylie Jenner attend the Coachella Music Festival in Indio, California.

GETTY
Clint Eastwood attends the Coachella Music Festival in Indio, California.

GETTY
Justin Bieber and Kendall Jenner attend the Coachella Music Festival in Indio, California.

GETTY
Behati Prinsloo attends the Coachella Music Festival in Indio, California.

GETTY
Hailey Baldwin and Kendall Jenner attend the Coachella Music Festival in Indio, California.

GETTY
Zoe Kravitz attends the Coachella Music Festival in Indio, California.

GETTY
Cody Simpson and Gigi Hadid attend the Coachella Music Festival in Indio, California.

GETTY
Miles Teller attends the Coachella Music Festival in Indio, California.

GETTY
Cara and Poppy Delevingne and Sienna Miller attend the Coachella Music Festival in Indio, California.

GETTY
Emmy Rossum attends the Coachella Music Festival in Indio, California.

GETTY
Jared Leto attends the Coachella Music Festival in Indio, California.

GETTY
Sarah Snyder attends the Coachella Music Festival in Indio, California.

GETTY
Kristen Stewart attends the Coachella Music Festival in Indio, California.

GETTY
Paris Hilton attends the Coachella Music Festival in Indio, California.

GETTY
Brooklyn Beckham attends the Coachella Music Festival in Indio, California.

GETTY
Alessandra Ambrosio attends the Coachella Music Festival in Indio, California.

GETTY