Beyoncé Experiences Mid-Performance Stage Malfunction
Of course, she handled it like a pro.
---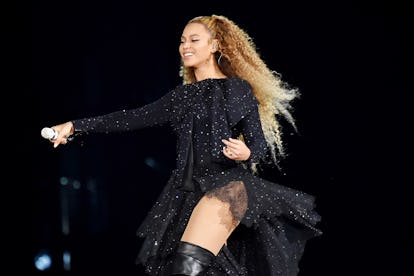 Kevin Mazur/Getty Images
Beyoncé concerts are flawless 99.99 percent of the time. Even in the few instances that the queen has experienced onstage mishaps, she's handled them like a true professional: She giggled with Solange and incorporated it into their choreography when they fell at Coachella, for example, and expertly took on the task of angling a hair fan toward herself when a stagehand got distracted. On Saturday, though, the singer ran into a technical problem that was beyond even her powers to fix.
As ET reports, toward the end of the Warsaw, Poland, concert on her and Jay-Z's joint On the Run II tour, a flying stage started malfunctioning during their performance of "Young Forever," leaving Bey stranded. The crew had to bring over a ladder and convince her to climb down in her thigh-high heeled boots.
Although the situation certainly looked scary, Beyoncé took it in stride, blowing kisses and dancing while fans cheered her on and chanted her name, fan videos show. After what looks like some deliberation, she ended up climbing down the ladder and heading offstage.
Saturday's Warsaw concert was the 11th out of 18 planned stops on the European leg of the superstar couple's On the Run II tour. On Tuesday, according to Ticketmaster, the power couple is headed to Köln, Germany, and they'll wrap up their Europe performances in Nice, France, on July 17, before beginning the North American part of the tour in Cleveland, Ohio, on July 25.
Over the course of the tour, Beyoncé has kept fans updated with pics and clips on Instagram. Along with a picture of her and Jay-Z in matching outfits onstage during their inaugural OTR II concert in Cardiff, Wales, she also uploaded a video of the massive crowd in Glasgow, Scotland, and several photos of the lacy pink outfit she wore on the plane ride there.
Related: Beyoncé and Jay-Z Share Never-Before-Seen Intimate Photos in On the Run II Tour Book
What Beyonce, Nicki Minaj, and Karl Lagerfeld Do on Private Planes