LOOK WHAT YOU MADE RIHANNA DO
Beyoncé vs. Rihanna vs. Taylor Swift: Which Pop Star is the Best Rapper?
Rihanna's rhymes on "Lemon" solidify the trend of pop stars turning into rappers.
---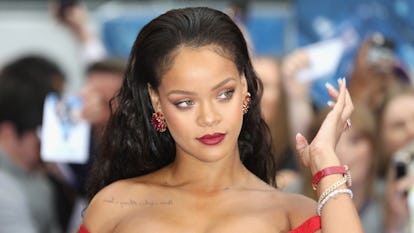 Tim P. Whitby/Getty Images
As Rihanna spits bars on her new N.E.R.D. collaboration "Lemon," Taylor Swift attempts to rap on "… Ready For It?" and Beyoncé is heralded for her rhymes on "Formation" and her recent "Mi Gente" remix, the slew of pop stars rapping on their own records has officially cemented itself as a trend.
So who has the edge? Pitchfork noted that Beyoncé has always been able to rap, and she's rapped quite well, giving her a slight learner's curve on her contemporaries. Ever since her 1992 appearance with "the hip-hop rappin' Girls Tyme" on Star Search, her flow in the MTV produced hip-hop version of the opera Carmen, and the development of her lyrical bravado on tracks such as "Kitty Kat," "Diva", and "***Flawless," we've been given a long time to become acquainted with Beyoncé's rhyming skills. The article describeds her style as consisting of "big gestures, freewheeling rhyme schemes, all swagger, slow-flowing her way through line readings of her impressive resumé." Beyoncé's extensively curated and heavily guarded public image is tweaked when she raps; as Pitchfork puts it she becomes a pop singer with "a much needed edge."
Meanwhile, Rihanna is the resident pop star with an edge. As we learned from ANTI, Rihanna is cool, confident, and she most certainly does not care what you think, which is why hearing her rap so brazenly on a N.E.R.D. track is such a delight. Additionally, N.E.R.D. released a version of "Lemon" where Pharrell takes the reigns on Rihanna's verse (as if anyone would ever elect to listen to the track without the Rihanna feature), and it is nowhere near as fun of a song. In the video released on November 1, Rihanna sits on a bed and shaves dancer Mette Towley's head before we hear her spit bars off screen.
Turn on the radio and you're more likely to hear a pop star like Rihanna rhyming than shouting on an alt rock jam, but she's still proven she's more than capable of producing both. According to a report from Nielsen Music, 2017 marks the first time the combined genre of R&B and hip hop top the charts as the most consumed genre of music in the United States. Even when a bandwagonner like Taylor Swift is attempting—much to critics' chagrin—to get in on the action, there is no turning back on recognizing this trend. This collapse of any sort of division between the genres of contemporary pop and rap is inevitable; hip-hop is pop music at this point, and the only thing listeners have left to do is to stay on the lookout for which pop star hops on the trend next.
Related: A Deep Dive Into Beyoncé's Mastery of the Instagram Grid