Beyoncé's Mom, Tina Lawson, Offers a Rare Glimpse of Her Extremely Guarded Daughter on Halloween
For Halloween, Ms. Tina gave the Beyhive a rare glimpse at an off-duty Beyoncé on her Instagram.
---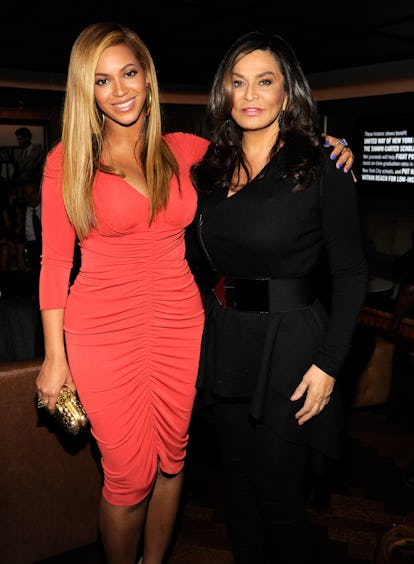 Kevin Mazur/Getty Images
It is well documented that Beyoncé is one of the most guarded A-list celebrities in the world, with an intensely curated social media presence. Her mother, Tina Lawson, on the other hand, has more of a laissez-faire approach when it comes to sharing it all on the 'gram.
From making "corny joke time" videos (which her own children have said they find embarrassing) to guilt-tripping Solange for not letting her know she was up for a major award and revealing that she received a slight scolding from her granddaughter Blue Ivy for recording videos in a no-photo zone, Lawson's Instagram account is the one window we have into the reality of the Knowles family. And even though Beyoncé keeps her fans at an arms length, Lawson continuously offers a view of her daughter off duty.
Just think, how would the average Beyoncé fan have any idea how much the musician enjoyed singing along to Van Morrison's "Brown Eyed Girl" (alongside her husband, Jay-Z, and Bono, no less) if Ms. Tina did not capture her little sing-a-long on Instagram back in July? And even though it has been deleted from her account by now (at the request of her daughter, perhaps), Lawson offered a glimpse into Beyoncé's casual attempt at the electric slide with Jay-Z and her stepfather, Richard Lawson, during her nephew's birthday party last December. Lawson also once featured her daughter off-camera during a classic "corny joke time" video, in which Beyoncé audibly groaned at her mom's suggestion that she was the one to suggest the joke.
Now, Lawson has given the Beyhive one more rare peek into the life of a relaxed Beyoncé on Halloween. Dressed up as Flo Jo, she danced happily to Lil Duval's "Smile Bitch" (a track most notable for its carefree "I'm living my best life" lyrics in the chorus), alongside her mom, dressed as Foxy Brown, and her sister, dressed as Kate Moss. (Jay-Z can be heard encouraging the ladies off-camera.) "This was pure joy for me," Lawson wrote in her Instagram caption.
Of course, Beyoncé is not the only daughter of Lawson's to get the video treatment on the 'gram this Halloween. She also shared a video of Solange and honorary daughter Kelly Rowland embracing in the middle of the "Boo Bash," which was also attended by Insecure's Yvonne Orji, Lauren London, and Diddy, who wore a crowd-pleasing and simultaneously terrifying Pennywise the Clown costume, and featured one festive "corny joke time" video to rule them all.
Related: A History of Beyoncé and Jay-Z's Family Halloween Costumes