Biaggio Ali Walsh Talks About Jumping in the Boxing Ring to Honor Late Grandfather Muhammad Ali
Muhammad Ali's model-slash-footballer grandson is honoring his grandfather with a new collection of limited edition backpacks.
---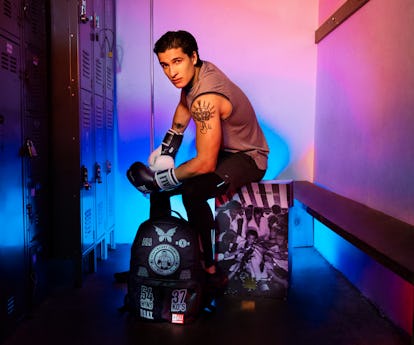 Sprayground
Biaggio Ali Walsh, the model and football player grandson of the late champion Muhammad Ali, is jumping in the ring himself to honor his heavyweight grandfather with a new collection of Sprayground backpacks.
On the subject of showing off his two tattoos of a bee and a butterfly—inspired by his grandfather's iconic "Float like a butterfly, sting like a bee" catchphrase—for the new collection, which will be unveiled today at a pop-up in New York's Times Square, Walsh talked about Ali's legacy. "When I heard they were doing a collaboration on my grandfather, that made me feel honored," he told W.
Walsh is no stranger to the camera, posing for photos "whenever I get a chance." For the Sprayground backpack collection, he's shirked his football status momentarily to jump in the ring for a full boxing photo and video campaign with fitness model Tianna Gregory. Walsh explained that so far in his career, gracing the pages of Vogue Italia in a Bruce Weber shoot has been his favorite moment as a model. "I flew out with my mom to shoot my senior year, about mid season for football, and being able to work with someone as big as Bruce Weber was an honor," said Walsh.
While Walsh is redshirting for Cal's football team this semester—meaning he practices and suits up to play but does not compete in games, allowing for more time to model and focus on course work—he studies film at U.C. Berkeley, maintains all A's in his classes and plans to pivot to the film industry once he graduates from college. "Since I was about four years old I've always wanted to write, produce and act in my own movies," said Walsh. "It's been a dream of mine since I was a little kid. All of elementary school, middle school and even in high school I wrote stories." After graduation, Walsh plans to move from the Bay Area to Los Angeles to make it on screen, but he's already made quite the name for himself and he's only 19.
As a young child, friends of Walsh's did not always know that he descended from a legend. "It was a blessing and a curse at the same time. Growing up, [I always kept it] a secret who my grandfather was because I was always afraid that someone would be my friend just because of that," said Walsh on the phone. "To have him as a grandfather, that is for sure a blessing." While Walsh himself is not a professional boxer, he does take time in the off-season to get in the ring with his brother and practice some of those boxing skills passed down from Ali. Sprayground's founder and creative director David Ben-David was impressed with Walsh's swagger in the ring as much as he was impressed with Ali's, adding, "The way that he moved in the boxing ring was so creative."
With over 100,000 followers on Instagram, Walsh's every move is on display. In regards to his social media superstar status Walsh explained, "I use social media as a way to express my feelings but I also use it as a way to market myself." He is also picking up right where his grandfather left off, and proclaims to use his platform to show love for his fans. "To be able to have that many followers, I'm thankful for that and for being able to use that platform to help market myself and continue the legacy that my grandfather has. He was huge [to] his fans and that's how I feel."
Related: Biaggio Ali Walsh, Grandson of Muhammad Ali, is a Champion on His Own
See W's most popular videos: