Black Panther Could Have an All-Female Sequel, According to Director Ryan Coogler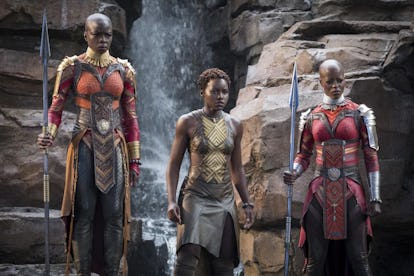 The year's most lovable film, Black Panther, has almost too many timely messages to count, which is one of the reasons it became the highest-grossing superhero movie, ever, a month after its release. One that jumps out, though, is how respected and fierce women are portrayed to be in the film. Not only does King T'Challa answer to his mother, the queen, he's also protected in the film by his Secret Service–like group of female warriors known as the Dora Milaje, in addition to his scientist sister Shuri. Let's be real: It's the women who steal all the scenes in the film. Director Ryan Coogler is fully aware of that, and, accordingly, he's already thought about a female-centric Black Panther spinoff.
When asked about his thoughts on the idea at Cannes, Coogler replied, "Oh, man. That would be amazing if the opportunity came up," as Variety notes. He also mentioned that there's a historical precedent for one: "They did it in the comic-book version." On the same topic, Coogler admitted that in the Black Panther universe, "I think you could argue they are more important."
That thought comes across especially in one critical scene that Coogler calls his favorite. "There's a whole section of the film where T'Challa is out of the movie and you're just following the women," he said, referencing when T'Challa, played by Chadwick Boseman, is defeated in a battle for the throne by his cousin Erik Killmonger (Michael B. Jordan). "That's one of my favorite parts of the movie when I watched it, and I didn't expect that."
As for Wakanda's inherently feminist society, Lupita Nyong'o, who stars as T'Challa's love interest, Nakia, explained to Variety why women reign in Black Panther: "Wakanda offers a glimpse into the world as it could be: self-determined and developed on their own terms without the interruption of colonialism; [it] has figured out how to make the most out of all its citizens," she said. "So, women are allowed to realize their full potential, and that's what Ryan [Coogler] wanted to show, and he committed to having that number of women around him. We're all… individual and powerful in our own ways and therefore very effective and influential." It seems like a given that Nyong'o and Angela Bassett would be up for a sequel. As for Letitia Wright, who plays Shuri, she's tweeted that she's game, and she no doubt already has another deep well of one-liners to draw from. This time, though, hopefully Grace Jones makes an appearance in the actual flesh.
Related: Janelle Monáe and Lupita Nyong'o Dancing to "Make Me Feel" Is Pure Joy