Janelle Monáe and Lupita Nyong'o Dancing to "Make Me Feel" Is Pure Joy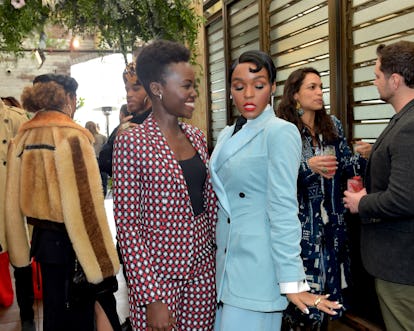 Donato Sardella/Getty Images for Belvedere Vodka
More often than not, Twitter is the Internet's centralized snark chamber. Some moments, however, make Twitter actually worth it. Janelle Monáe and Lupita Nyong'o dancing together is one of them. A video of the pair lost in their own fun world together is being passed around on Twitter, and it is pure joy.
Last night, they shared a FOMO-inducing moment at the premiere of Emotion Picture, a visual accompaniment to Monáe's third studio album, Dirty Computer, which drops this Friday, April 27. Specifically, Monáe and Nyong'o showed off their moves to "Make Me Feel," the album's lead single, which doubles as a bisexual anthem.
While Monáe and Nyong'o's friendship is just now going viral, it actually hails back to 2014, when Monáe shared her praise for the actress after Nyong'o was named People's most beautiful person of the year. "I feel proud," Monáe told the Huffington Post of Nyong'o's honor. "I feel, just, it's a no-brainer. She is absolutely gorgeous, and I think it's her spirit that helped this awe. Not only is she physically attractive and just beautiful, but I think that she just exudes positive energy, and she seems very warm and caring. She also speaks several different languages, she's smart, she's intelligent, and she's a hell of an actress. I think all those things make her a beautiful woman."
More recently, the two hung out in Los Angeles, when Monáe hosted a brunch for women in the entertainment industry in conjunction with her grassroots organization, Fem the Future. At that event, in March, Monáe spoke about her solidarity with women, telling the Los Angeles Times, "A beautiful future looks very inclusive for women—more women storytellers from all around the world who get the opportunity to speak from their unique perspective…. Here I am trying to work on my album, and I wanted to collaborate with more women producers. I told my A&R to reach out to as many as possible, and the list that I got back was so small and thin. It was very frustrating. It was sad. And I just wanted to put my anger to work."
Hopefully, Monáe's future collaborations with females includes a more formal one with Nyong'o.