Blake Lively and Gigi Hadid Had More Fun Than Everyone Else at a Taylor Swift Concert
They had the only correct response to "Gorgeous."
---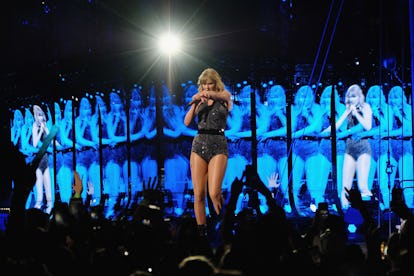 Photo by Jason Kempin/TAS18/Getty Images
There's a unifying factor in Blake Lively and Gigi Hadid's friendship, and that is Taylor Swift. The actor and model, both members of Swift's now-infamous "squad," have attended Swift's now-infamous July 4 bash together; Lively interviewed Hadid for a recent Harper's Bazaar cover; and now, the two—along with Lively's husband, Ryan Reynolds—have made their way out to a Swift concert together.
The Reputation tour dropped in on Foxborough, Massachusetts, Saturday night, and Lively and Hadid were spotted in the VIP section dancing away and furiously documenting the whole thing for their Instagrams. (In her Stories, Hadid captioned a short clip of Swift performing "Dress," "ilysm it hurts," paraphrasing the song.) Other concert attendees also captured clips of the trio apparently having the time of their lives watching the show—evidently, the two especially love "Style." (As does Reynolds; while Hadid and Lively were twirling around, he was bobbing along and clapping to the song.)
Of course, little could compare to their reaction to the opening bars of "Gorgeous," a cut off Swift's album Reputation, which features vocals from Lively and Reynolds's daughter James. (To be precise, she can be heard simply saying "gawgeous" during the song's first moments.) Lively already had her phone at the ready to capture the song when it began to play, and, as Swift introduces the track, Lively panned from the stage to her husband's expression to her own wide-eyed look. When Swift ended with, "It's called 'Gorgeous,'" Lively and Hadid started jumping up and down and screaming, the only appropriate reaction to hearing your own firstborn child over loudspeakers at a stadium concert.
As Taylor Swift's tour has wound its way across the country, it has brought out an impressive cross-section of the pop star's friends, collaborators, and admirers. Amber Rose, Julia Roberts, and Rebel Wilson posed for a selfie with Swift backstage at the Rose Bowl show; Adele was also there; designer Stella McCartney, model Martha Hunt, Bill Nye the Science Guy, and a bunch of Beckhams stopped by. Onstage, Shawn Mendes, Selena Gomez, Robbie Williams, and Troye Sivan have all made appearances. They probably all had a great time! But did anyone have quite as much fun as Gigi Hadid and Blake Lively? I think you know the answer.