Rami Malek as Freddie Mercury in Bohemian Rhapsody Trailer Was Worth the Wait
He will, for lack of a better term, rock you.
---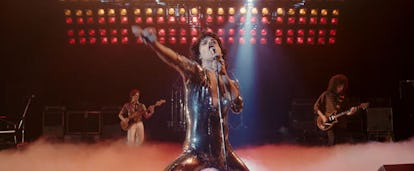 Despite some stumbles along the way, the long-awaited first look at Rami Malek in motion as Freddie Mercury in Bohemian Rhapsody is finally here, and it looks to have been worth the wait. Though the actual singing in the trailer belongs to Mercury himself, Malek has Mercury's quips, charisma, and stage presence down pat. The costuming department has certainly done their part as well by replicating some of Mercury's most famous onstage attire, tight A-shirt, sequined jackets, and checkboard bodysuits included.
Though it's still hard to tell what exact focus the film will take on Mercury's life, the clips seem to indicate it will take a wide view focusing on his rise to fame, risk-taking musicality, and private life. Despite some worry, it also seems that Mercury's bisexuality has not been erased from the film. Lucy Boynton (who is rumored to be dating Malek in real life) appears in the trailer as Mercury's longtime partner and muse Mary Austin, and there's a brief glimpse of Mercury in an intimate moment with a male companion in what appears to be a leather bar.
The film, of course, has gone through quite a lot of drama on its way to completion. Originally, X-Men director Bryan Singer was attached as director and completed months of work on the film in London. Then, suddenly, he disappeared from set and was fired. Dexter Fletcher, whose previous films are not particularly well known outside of the United Kingdom, was brought on to complete the film.
Even before all that, the film had been in developmental hell since it was announced, with the support of Mercury's fellow Queen members, in 2010. Sacha Baron Cohen and Ben Whishaw were both connected to the project before Malek was cast. Various directors had also been rumored to be in the running before Singer had come aboard.
The film is set for release on November 2.
Related: Rami Malek Is Reportedly Dating Bohemian Rhapsody Costar Lucy Boynton