Rami Malek Is Reportedly Dating Bohemian Rhapsody Costar Lucy Boynton
They play Freddie Mercury and Mary Austin in the upcoming biopic.
---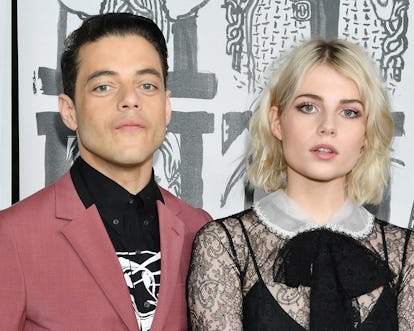 Dominique Charriau/Getty Images
Sorry Internet! Another one of your boyfriends is spoken for. This latest one is Rami Malek, who Us Weekly reported on Tuesday is dating his Bohemian Rhapsody costar, Lucy Boynton. "He is so into her," the source told Us Weekly. "He goes and visits her in London all the time."
According to the outlet's source, the couple met while filming on-set in London. Malek plays Freddie Mercury in the upcoming Queen biopic, while Boynton plays Mary Austin, Mercury's real-life partner and muse who provided the inspiration for such songs as "Love of My Life." It won't be long before we get to see the fruit of their labors. Bohemian Rhapsody's release date has been bumped up to this November, following seven years of delays, including a halt in production because of the firing of director Bryan Singer in December. Singer, who was accused of sexual assault, had apparently been ghosting the production since Thanksgiving after he had an on-set fight with Malek.
Speaking to Entertainment Weekly in September, Malek revealed that the songs in the biopic would either use his vocals or recordings of Mercury. He also talked about seeing himself made up to look like the Queen frontman for the first time. "When you're able to open your eyes and see a different person staring back at you in the mirror," Malek told EW, "it's a very affirming moment."
Prior to his rumored involvement with Boynton, Malek had been in a relationship with Mr. Robot costar Portia Doubleday, who played Angela Moss, the childhood best friend of Malek's character, hacker and hoodie enthusiast Elliot Alderson. According to Us Weekly, the couple had broken up some time in 2017, with their source claiming that Malek had been single "for a bit" before dating Boynton.
Neither Malek nor Boynton have commented on their reported relationship, although they were spotted cozying up at the Miu Miu after show during Paris Fashion Week.
Related: Rami Malek Remembers Getting Advice From Phillip Seymour Hoffman