Book Club's Candice Bergen is Too Busy to Read Fifty Shades of Grey in Full
The Bergen Bag designer just scanned the dirty parts.
---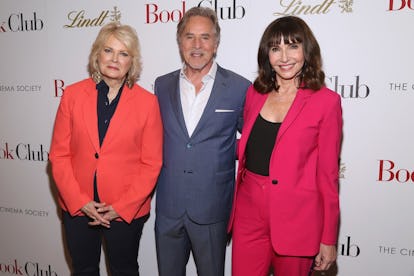 Candice Bergen, Don Johnson, and Mary Steenburgen. Paramount Pictures With The Cinema Society & Lindt at a screening of Book Club at City Cinemas 123, New York, NY. Sylvain Gaboury/PMC
Candice Bergen is no stranger to pop culture phenomenons.
Along with Jane Fonda, Diane Keaton, and Mary Steenburgen, Bergen stars in Book Club, a raunchy comedy with a plot that your mom will probably love. (The movie tells the story of four older best friends who choose Fifty Shades of Grey for their book club, in the hopes of rejuvenating their sex lives.)
Bergen—who plays a divorced federal judge living alone with her cat—admitted that when Fifty Shades of Grey was published she "just read the dirty parts. Then someone borrowed it and never returned it." But, then, the actress is likely too busy to keep up with the pop-culture phenomenon that is the Fifty Shades franchise, given the success of her side hustle.
Bergen's Instagram account, @bergenbags, has become a phenomenon itself, and is dedicated almost entirely to the designer bags that she hand-paints for friends and celebrity clients. It began when her daughter, Chloe Malle, asked her to decorate a Louis Vuitton duffle bag, which Malle subsequently posted on Instagram. The rest is history. "I should say that I am not a painter," Bergen writes on her site. "In fact, I haven't painted anything in forty years but I used to draw cartoony things and I wasn't bad at that. It has been a sharp learning curve but enjoyable. I set up my paints on the long table on our porch in East Hampton, put golden oldies on the radio and work happily."
Hermès bags, Gucci shoes, and various designer accessories have all been given the Bergen stamp of creativity, and are often customized with a monogram or painting of the client's dog or cat. There's also the occasional portrait of pot leaves. Bergen doesn't always reveal who the customized bags are made for when posting a photo of them to Instagram, but she made an exception at the Book Club premiere in New York on Tuesday night, when she revealed those that she is most proud of.
Though she was hard-pressed to come up with a definitive favorite, she did note a few. "I did a Clydesdale horse, and I did hedgehogs for Lena Dunham. That was fun!" she told W. "I had to take the bag back to get the first version removed because it was not up to par, and I had to re-do the hedgehogs," she went on.
Her careful attention has clearly caught up with her. "I have 40 bags that are waiting to be done," she added. "I've gotten behind in the last couple of months" So who will be the next star to receive one of her masterpieces? Maybe Murphy Brown will show up to work with a custom Bergen Bag in the show's revival this fall.
Related: Jane Fonda Has Taken Herself Off the Market and Is No Longer Dating