Brad Pitt Once Threatened to Kill Sexual Abuser Harvey Weinstein While Defending Gwyneth Paltrow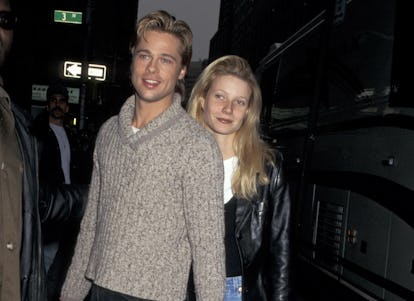 Ron Galella/WireImage
Brad Pitt may be currently at work on a movie about the Harvey Weinstein investigation, led by The New York Times, but his experience with the serial abuser dates back two decades. In 1994, when the actor was dating Gwyneth Paltrow, who was cast in Weinstein's Emma, he defended his girlfriend after she received an unwanted advance from the film executive.
Paltrow recalled the story in a recent interview with Howard Stern, telling the radio host, "We had one incident in a hotel room where he tried to make a pass at me. It was weird." The incident Paltrow is referring to is when Weinstein requested that she give him a massage, which she addressed in The New York Times's early exposé on him, without being specific about what happened. "I was alone in a room with him," she said. "It was out of the blue. I was blindsided. I was shocked."
As Paltrow previously said, she reported the incident to Pitt. "I told him right away and I was very shaken by the whole thing," she told Stern, before adding that the actor threatened Weinstein. "We were at the opening of Hamlet on Broadway. Harvey was there and Brad Pitt — it was like the equivalent of throwing him against the wall, energetically. He said, 'If you ever make her feel uncomfortable again, I'll kill you'. Or something like that."
Paltrow loved it. "It was so fantastic," she said. "He leveraged his fame and power to protect me at a time when I didn't have fame or power yet."
Weinstein later retaliated, however, calling Paltrow and threatening her to stay silent, as she told The New York Times last December. "I thought he was going to fire me," she said. "He screamed at me for a long time. It was brutal." But with his production company Plan B's upcoming Weinstein film, Pitt will have the final word.