Brandon Maxwell Cast His 81-Year-Old Grandmother as His Fall 2018 Campaign Star
When he could have cast the Hadids.
---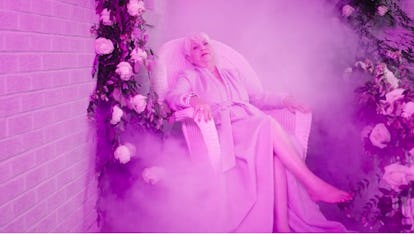 Brandon Maxwell
Fall 2018 has barely hit stores, but the designer Brandon Maxwell has already released his campaign for the season—and it stars none other than his real-life grandmother, 81-year-old Louise Johnson.
While Maxwell maintains close relations with famous fans of his brand like Gigi and Bella Hadid and Lady Gaga, he instead went the surprise route. Maxwell opted to make his grandma the focal point of the campaign and release it ahead of the season, in time for her birthday. The reasoning behind his decision is just as sweet as the campaign itself.
"As you go out into the world to pursue your dreams, you have to leave your family, and that's very hard," he told Glamour. "And you're hoping, ultimately, that you can do something that makes them proud, that gives you a little bit of success and them a little bit of recognition. You're always racing against the clock for that to happen, because you're out in the world chasing your dreams and people are getting older. I felt pride and excitement that we had arrived at this point that I was able to do that, and also the immense pressure to honor her in a way that made her feel purpose."
Apparently, the idea to photograph Johnson for his collection came to Maxwell a year ago. He had originally planned to include his other grandmother, but she sadly passed away before he was able to make the idea a reality. "I just thought, Right now, I'm in a place in my life where I'm thinking a lot about who I am and where I'm from and what made me who I am, and very core to that story, obviously, is my grandmother," he explained. "I grew up in a clothing store with her—under a clothing rack, under the cash register…. She really pushed me to do what I do today. And I think that there's no better way to honor that than giving her that space."
The campaign is a welcome addition to the fashion landscape, where age inclusivity actually plummeted between last fall campaign season and the runway for this fall. But it's not a marketing ploy; Maxwell took inspiration from his grandmothers while designing the collection as well. "Her thing is really watering the yard in her jeans, so that's why we had her sitting on an apple box in her yard, in jeans," he said of Johnson. "I wanted us to do things that were authentic—I thought, also, the coat that Bella wore to open the show…[Johnson] is always walking around the house in a robe like that, so I wanted to make sure that it was core to who she is."