Why Brooklyn Beckham Made His Instagram Account Private
His Instagram is now public.
---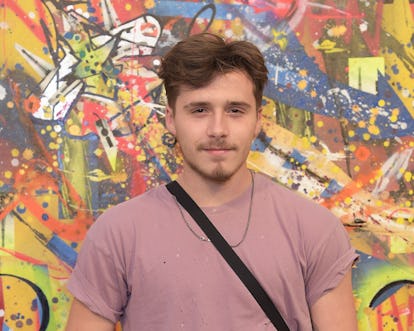 David M. Benett/Getty Images
If you're hoping to creep on Brooklyn Beckham's Instagram page without following him, you're out of luck. The oldest child of Victoria and David Beckham has made his account private, and, of course, that move may be in response to backlash he's received for a recent post.
When Beckham, who has been traveling almost nonstop with his family for the past few months, visited Venice, Italy, he shared photos from his trip that immediately sparked a backlash. "No place like Italy innit," he wrote on Instagram in the caption of a two-photo slide. It consisted of a picture of some fellow tourists on a gondola who are Asian, in addition to a photo of an Asian woman walking down a grocery-store aisle. "I don't really understand ? so how's Italy really like?," one Twitter user wrote in response, sharing screenshots of the post, as NYLON points out.
Some felt that the caption is not only poking fun at and marginalizing a group of people based on their ethnicity alone, it seems to be outwardly prejudiced. Then there's also the fact that it is not okay to take photos of strangers and shame them on social media, let alone for your own entertainment. Not long after Beckham posted the photo, many took to Twitter to echo the insensitive nature of the post. "You are just a tourist, the same as people on your photo. So what makes you feel different?" one user wondered.
"Brooklyn Beckham's noble imagination of Western world was hurt by the appearance of Asians," another wrote. "LMAO. Don't know he's such an Italian culture expert."
This is not the first time Beckham has been accused of cultural insensitivity. Just last April he was accused of cultural appropriation after he flaunted a tattoo of a Native American man in a headdress. At the time comments rolled in on Instagram questioning the decision to get the tattoo, which Beckham had revealed was a tribute to his father. "Just like dads," he wrote in the caption, referencing his father's similar tattoo on the side of his rib cage. (Beckham got his in a more prominent spot on his arm. Beckham has still yet to address the backlash.
Related: Chloë Grace Moretz Is Doing Just Fine Without Brooklyn Beckham, Thanks