Call Me by Your Name Is Getting a Sequel (of Some Sort)
Elio and Oliver's story isn't over yet.
---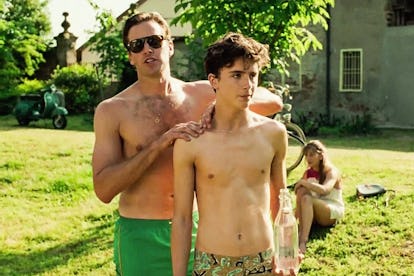 Are we actually getting a sequel to Call Me By Your Name? Well, it depends on who you ask, what exactly you mean by "sequel," and who actually has the power to answer these questions.
As we all know by now, it was film director Luca Guadagnino who first signaled the idea of not just creating a sequel, but rather developing a trilogy. He's been talking about the idea for well over a year at this point. In fact, he's been talking about it since before the film even got a wide release in America. "I want to do a sequel because Timothée Chalamet, Armie Hammer, Michael Stuhlbarg, Amira Casar, Esther Garrel—they are all gems," Guadagnino told Screen Daily all the way back in October 2017. "The texture we built together is very consistent. We created a place in which you believe in the world before them."
The idea would be to visit Chalemet's Elio and Hammer's Oliver intermittently throughout their lives, in the vein of Richard Linklater's popular Before Sunrise trilogy.
Both Chalamet and Hammer have publicly committed their wiliness to follow Guadagnino's vision, and the Italian director has already started dreaming up possibilities. Amongst things to expect: Elio as a film student in Paris, a trip around the world, the AIDS crisis, and, possibly, Dakota Johnson as Oliver's '80s "New England kind of hoochie woman" wife. This is all kind of wild considering that the film is based on a novel, and that novel has a definitive ending in which Oliver and Elio meet only once again, years later.
Even as the film finished its run in theaters and cleaned up nicely on the awards circuit, all things considered, we're still seemingly getting intermittent updates on the possible sequels. So much so that they're in danger of becoming something of the art-house equivalent of the Aviator franchise: We keep hearing about the new films, but there's no concrete evidence we'll ever actually see them.
As it turns out, at least one member of the film's creative team isn't too hot on the idea. James Ivory, who collected an Oscar for his script (while wearing a shirt with Chalamet's face lovingly painted on it), is not on board (especially when it comes to the idea of what a sequel may mean to Chalamet's face).
"I don't and I wouldn't want to be involved," Ivory recently told The Film Stage. "I can't imagine having to make Timothée Chalamet look 45. I mean, that would be horrendous and so fake-looking if that's what they are going to do!"
It is unclear where, exactly, Ivory got the idea that Chalamet was going to be aged up to 45 for a sequel, though he also conveyed the idea that the writer of the novel, André Aciman, wouldn't be on board for a sequel either.
Alas, for all the enthusiasm shown by Guadagnino and his actors for a sequel, it appeared that for a minute there at least, the writers behind all of it had put an end to that dream.
Aciman, however, jumped on to Twitter last night to clarify his position on the matter, writing, "I would actually love a sequel to Call Me by Your Name. In fact I am writing one."
Hammer is, well, seemingly psyched at the idea.
It's unclear if Aciman is writing a sequel to his novel or rather writing a script to the sequel to Guadagnino's films, but we do know for sure that Elio and Oliver are coming back in some form as guaranteed by their original creator himself.
Related: Call Me by Your Name Sequel May Involve a Trip Around the World