Raf Simons Reimagines Jason Voorhees' Hockey Mask as a Shoe for Calvin Klein Spring 2018
Only Raf can make Halloween look chic.
---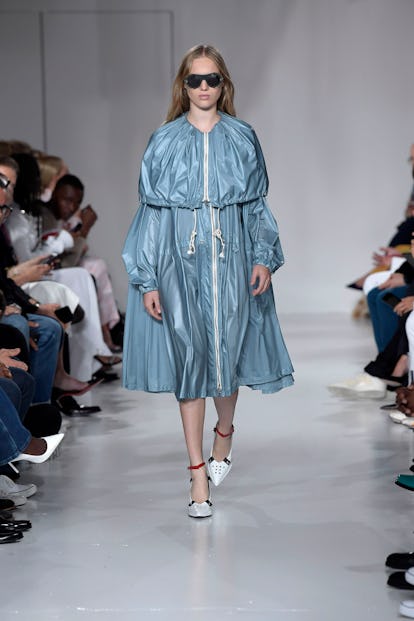 KEY RUNWAY LOOKS: © 2017 Giovanni Giannoni
One of the worst parts about Halloween is having to shell out for a costume destined to gather dust in the back of your closet. This year, however, Raf Simons is sparing us from that process. That's because the designer and creative head of Calvin Klein found inspiration that not only works for Halloween, but the rest of the year as well. The crown jewel from his Spring 2018 collection for Calvin Klein is a pair of pointy pumps inspired by the iconic hockey mask worn by villain Jason Voorhees in the 1980 horror film Friday the 13th.
Simons reimagined the perforated mask as a stiletto, complete with leather straps and a red ankle strap that nods to the red triangle on Vorhees' original. He paired the shoes in two separate looks with a black halter dress that's reminiscent of the garbage bags used to conceal dead bodies in the movies and a blue anorak topped with a capelet, proving that the shoes go beyond Friday the 13th, and October 31st. The overt reference to the cult classic was part of the larger theme in his Spring 2018 collection for Halloween, the American dream and American nightmare.
"It's about American horror and American beauty," Simons said in a statement. "Fashion tries to hide the horror and embrace only beauty. But they are both a part of life. This collection is a celebration of that: a celebration of American life."
The timing of Simons' horror show isn't curious; this year has been its own kind of slow-motion slasher film as things as basic as human equality fall under attack in a Trump administration. Not coincidentally, this year has also been a kind of renaissance for the horror film — a genre that at its core seeks to expose societal problems via a metaphoric monster — as movies like Get Out, The Purge, Don't Breathe, and, most recently, It dominate cultural conversations and the box office, potentially as contenders for the 2018 Academy Awards. Considering Simons' collection will be hitting stores around that time, it seems likely that the horror show will continue into 2018, and we can't wait to sit back and watch.
Related: Kaia Gerber On Her New York Fashion Week Debut at Calvin Klein: "I Kind of Blacked Out
See What's Trending in W Video: