Yes, Cameron Diaz Has Retired From Acting: "I'm Literally Doing Nothing"
Selma Blair's words have come true.
---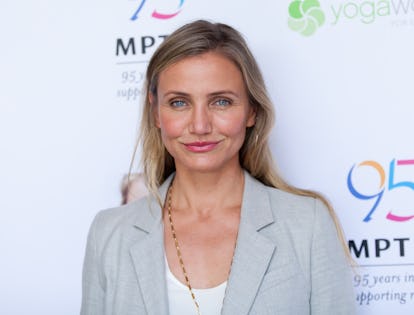 Tibrina Hobson/Getty Images
It's been four years since Cameron Diaz last graced the silver screen, and the reason for that is now apparent: The actress has retired.
Earlier this month, Diaz's friend and former costar Selma Blair sort of revealed the news in an interview with Metro News. "We were reminiscing about the film [The Sweetest Thing]. I would have liked to do a sequel, but Cameron's retired from acting," she said. "She's like, 'I'm done.'"
After the interview surfaced, Blair explained that she was actually just kidding. "Guys, please, I was making a joke in an interview," she tweeted. "CAMERON DIAZ is NOT retiring from ANYTHING. And for more breaking news: I am NOW retiring from being Cameron Diaz's spokesperson."
But, it turns out, Blair was right. Diaz herself has confirmed that she is no longer working. "I'm semi-retired… and I am actually retired," she said in an interview with her Sweetest Thing costars Blair and Christina Applegate for Entertainment Weekly. Diaz casually shared the news while talking about the trio's relationship since the movie. When asked if they've reunited since its 2002 release, Diaz responded, "Goddamn it, why not?"
Applegate replied, "I don't know. You guys tell me. I see Selma," to which Blair said, "Our kids are friends. Cameron?"
"Maybe I should, you know, I mean, I'm down. I'm literally doing nothing," Diaz said.
Applegate, who also considers herself "retired," agreed, saying, "I'm literally doing nothing, too! I'm semi-retired, I haven't worked for years. I'm a mom, that's what we do. So I'm around, man," to which Diaz replied, "I'm totally down."
So there's that.
As for why Diaz is no longer acting, she gave one answer during last summer's Goop Wellness Summit. "I just went, 'I can't really say who I am to myself,' which is a hard thing to face up to," she said. "I felt the need to make myself whole."
She's been doing that ever since, with help from her husband, Benji Madden. "We women are objectified so much," she added during the Goop summit. "Somehow my husband has just been able to kind of show me what it's like not to have that be part of a relationship and be equal."
Related: Behold Cameron Diaz's Most Iconic Roles, From The Mask to The Holiday