Cara Delevingne Broke the Royal Wedding Dress Code in a Chic Morning Suit and Top Hat
Some rules were meant to be broken.
---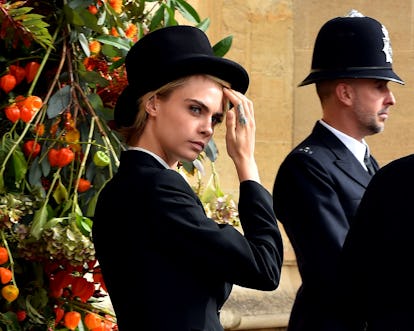 MATT CROSSICK/Getty Images
Though Meghan Markle and Kate Middleton have found subtle ways to subvert some royal traditions, they still largely adhere to the strict set of rules members of the royal family are supposed to follow in their day-to-day lives. Cara Delevingne, however, has no such qualms, even when attending one of the biggest, most formal events the royal family will host all year.
On Friday, October 12, the model and actress attended Princess Eugenie's wedding to Jack Brooksbank, and, as Vanity Fair notes, wore pretty much the exact opposite of the event's set dress code.
Delevingne rolled up to St. George's Chapel at Windsor Castle on Friday morning wearing a white button-down shirt, a gray necktie, a black waistcoat with knee-length tails, a black cummerbund, and black cropped pants, which she paired with a black top hat and pointy-toed black stiletto heels. In short, she was in "morning dress," which was, indeed, listed on the wedding's invitations, but is traditionally worn by male guests. The female guests, on the other hand, were asked to wear a "day dress with hat," as Kate Middleton, Kate Moss, Liv Tyler, Demi Moore, and other women at the wedding did.
That said, if we're really splitting hairs here, the invitation didn't actually specify which dress code was for which members of the guest list; it merely read "Dress: Morning Coat/Day Dress with Hat," which could certainly be construed as a "take your pick" situation.
And if you're less confused about Delevingne's outfit, and wondering more about just how she ended up on the royal wedding's guest list, Vanity Fair also has the answer to that. Simply put, she and Princess Eugenie are longtime friends. Not only did the two famous Brits hang out at a London Fashion Week party in 2015, and Delevingne was also reportedly invited to Eugenie's 25th birthday party that same year. Case closed!
The 13 Best-Dressed Guests at Princess Eugenie's Wedding, Including Cara Delevingne in a Tuxedo and Kate Middleton in Alexander McQueen
Cara Delevingne arrives ahead of the wedding of Princess Eugenie of York and Jack Brooksbank at St. George's Chapel on October 12, 2018, in Windsor, England.

WPA Pool
Pippa Middleton arrives ahead of the wedding of Princess Eugenie of York and Jack Brooksbank at St. George's Chapel on October 12, 2018, in Windsor, England.

WPA Pool
Catherine, Duchess of Cambridge arrives ahead of the wedding of Princess Eugenie of York to Jack Brooksbank at Windsor Castle on October 12, 2018, in Windsor, England.

WPA Pool
Poppy Delevingne arrives ahead of the wedding of Princess Eugenie of York and Jack Brooksbank at St. George's Chapel on October 12, 2018, in Windsor, England.

WPA Pool
Sarah, Duchess of York and Princess Beatrice arrive ahead of the wedding of Princess Eugenie of York and Jack Brooksbank at St. George's Chapel on October 12, 2018, in Windsor, England.

WPA Pool
Ellie Goulding arrives for the wedding of Princess Eugenie of York to Jack Brooksbank at St. George's Chapel on October 12, 2018, in Windsor, England.

WPA Pool
Kate Moss and Lila Grace Moss Hack arrive ahead of the wedding of Princess Eugenie of York and Jack Brooksbank at St. George's Chapel on October 12, 2018, in Windsor, England.

WPA Pool
Liv Tyler arrives ahead of the wedding of Princess Eugenie of York to Jack Brooksbank at Windsor Castle on October 12, 2018, in Windsor, England.

WPA Pool
Pixie Geldof arrives ahead of the wedding of Princess Eugenie of York to Jack Brooksbank at Windsor Castle on October 12, 2018, in Windsor, England.

WPA Pool
Demi Moore arrives ahead of the wedding of Princess Eugenie of York and Jack Brooksbank at St. George's Chapel on October 12, 2018, in Windsor, England.

WPA Pool
Meghan, Duchess of Cambridge arrives ahead of the wedding of Princess Eugenie of York to Jack Brooksbank at Windsor Castle on October 12, 2018, in Windsor, England.

WPA Pool