Cara Delevingne Praises "Dirty" Rihanna on Her 30th Birthday With an Instagram Collage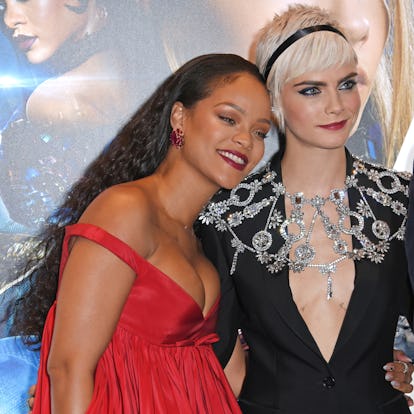 David M. Benett/Getty Images
Is a birthday even a birthday until a friend takes to the 'gram with some tasteful collages spanning over a decade? Cara Delevingne honored her good pal Rihanna a day after her 30th birthday by doing just that, with the multi-hyphenate delighting us all with a cheeky message on Instagram to accompany 28 (!) photos of the duo through the years.
"Happy belated birthday Robyn, you dirty 30-year-old!!!! Time has flown by since we first met, and wow, has it been a wonderful rollercoaster," she wrote. "Cheers to all the mind-blowing memories and all the ones to come. Love and miss you always xxx." Some of photo highlights? The duo sporting some stunned expressions at a basketball game, touching their butts on a yacht, and fixing each other's hair in a bathroom. You know, just cute friend stuff. (Personally, we're partial to all of their exploits through the years at the Met Gala.)
As for RiRi, she's been ringing in her dirty 30s in the most vanilla ways possible. Just kidding. She warmed up the birthday festivities with an instantly iconic T-shirt that read "I hate Rihanna…Don't trust anyone under 30," a piece you can actually buy for yourself if you can get off the retailer's wait list.
But as for the actual birthday party, brace yourself for an avalanche of pure extravagance: The icon officially rung in her third decade by renting out The Grill establishment in its entirety—perhaps New York City's most opulent steakhouse—that provided "hundreds of bottles of champagne" and a never-ending assortment of meats. (Drool.) Those lucky enough to be in attendance included Paris Hilton, Toni Braxton, Leonardo DiCaprio, and her billionaire boyfriend Hassan Jameel, although we have a feeling this won't be the last we hear about Rihanna's big 3-0. Where's our invite, girl?