Rihanna Wore "I Hate Rihanna" T-Shirt On the Last Day Of Her 20s
"Last day to make a bad decision and blame it on my 20's."
---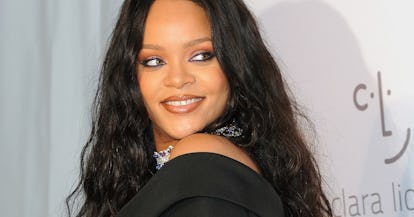 Getty Images
Rihanna said goodbye to her 20s with a bold fashion choice.
On Monday, the musician, fashion designer, beauty mogul and philanthropist donned an oversized T-shirt emblazoned with the words, "I hate Rihanna"; underneath the bold statement, the shirt warned, "Don't trust anyone under 30." Rihanna posted a photo of her wearing the top as a dress, lampshade style, on her Instagram Story on Monday, captioning it with a side-eye emoji and "last day to make a bad decision and blame it on my 20's."
For the record, the tongue-in-cheek tee wasn't a birthday exclusive made by Rihanna herself in a fit of self-loathing. As People discovered, the shirt can be found in the gift shop of the Red Bull Arts New York gallery space. According to the program's website, the one-size-fits-all $130 garment was designed by Norwegian artist Bjarne Melgaard and "is devoted to building solidarity between older men of means against the emotional and financial exploitation perpetrated by the young." Of course, the T-shirt is currently sold out.
After ending the last decade with a bang, the Fenty Beauty founder will likely continue to serve up major looks throughout her 30s. To refresh your memory, in the last few months alone, Rihanna has sported $1,340 crystal-dotted Gucci socks with pointy mules and tried out the "root beer hair" trend. She also powered through feeling "sick af" during the holidays to pose in a glamorous red gown, red lipstick, and matching red strappy heels. And, on this fine Tuesday, may we never forget the time Rihanna inspired us all to bring our Tuesdays to new heights by trying on a bright blue custom Molly Goddard gown with sporty sneakers and futuristic sunglasses, and labeling the OTT getup "casual."
Related: Rihanna Talks About Being a Loner in High School and Why Fashion Should Be Inclusive in a Rare Interview
Rihanna Is the Ultimate Fashion Icon
The rising star arrived at the Baby Phat Spring 2006 fashion show in a baby doll-style sundress with lots of eyeliner and nude-pink glossed lips.

Getty Images
Wearing baggy jeans and a crop halter top, Rihanna was cute and sporty at Z100's Jingle Ball.

Getty Images
Rihanna went for the glamorous, diva look at the Conde Nast 3rd Annual Fashion Rocks Concert in a metallic Zac Posen gown.

FilmMagic
Rihanna sparkled in a white, Marilyn Monroe-inspired dress after winning Best Female Artist of the Year at the 2006 Billboard Music Awards.

Getty Images
Rihanna donned a daring new asymmetrical bob and a neon pink, mermaid-style gown at the MTV Video Music Awards.

FilmMagic
Rihanna visited TRL at MTV's Studios in Times Square in a strapless bustier top, flared jeans and a knit beanie.

WireImage
Rihanna was edgy and fun at the Nickelodeon's 2008 Kids' Choice Awards thanks to a new pixie cut and pink polka dot bustier top.

Getty Images
The singer played with color at the 2008 BET awards in a neon yellow Giambattista Valli gown and a playful purple lip.

Getty Images
Rihanna's short, cropped hairstyle gave a little edge to her Jasmine di Millo ruffled dress at the RIAA and Feeding America's Inauguration Charity Ball.

Getty Images
Rihanna went for the men's wear look in a Dolce & Gabbana tux with '80s-inspired shoulders to the 'The Model as Muse: Embodying Fashion' Costume Institute Gala at The Metropolitan Museum of Art.

WireImage
Newly blonde, Rihanna arrived at the 52nd Annual GRAMMY Awards in a ruffled Victorian-inspired Elie Saab Haute Couture gown.

Getty Images
Rihanna attended the Echo Award 2010 in a geometric high-fashion Alexander Vautiher bat-cap jumpsuit with serious shoulder pads.

Getty Images
Rihanna switched up her hairstyle–yet again. This time opting for a cherry red, voluminous curls.

FilmMagic
Continuing her love affair with scarlet, Rihanna attended the 'Alexander McQueen: Savage Beauty' Costume Institute Gala at The Metropolitan Museum of Art rocking a long, red French braid, rimmed eye make-up and maroon lip that perfectly coordinated with her sheer, embellished gown.

WireImage
The singer looked effortlessly chic at the Stella McCartney presentation during London Fashion Week in a green silk slip dress, courtesy of the designer, with sun-kissed blonde shoulder-length hair.

Getty Images
Rihanna arrived to the 2012 MTV Video Music Awards in a backless white Adam Selman dress debuting, of course, a new cropped hairstyle.

Getty Images
The singer turned heads at the 55th Annual Grammy Awards in a gorgeous sheer gown by Azzedine Alaia.

Getty Images
In a sexy Jean Paul Gaultier couture two-piece and coordinating head wrap, Rihanna was completely seductive at the 2013 American Music Awards.

Getty Images
Rihanna attended the 'Charles James: Beyond Fashion' Costume Institute Gala at the Metropolitan Museum of Art in a Stella McCartney two-piece dress that showed off her perfectly toned stomach.

WireImage
Rihanna in custom Adam Selman at the CFDA awards.

Getty Images
Rihanna showed some skin in a Tom Ford gown at the 2014 amfAR LA Inspiration Gala. Her ponytail, long lashes and bright orange lip upped the overall glam factor of the look.

Getty Images for amfAR
Pretty in pink. The singer filmed an episode of 'Good Morning America' in a Pascal Millet jumpsuit, blazer and faux fur stole.

GC Images
Rihanna attends the 'China: Through The Looking Glass' Costume Institute Benefit Gala at the Metropolitan Museum of Art in a yellow couture gown from Chinese designer Guo Pei.

Getty Images
Rihanna looked gothic chic in a look of her own design during the FENTY PUMA by Rihanna Fall 2016 show at New York Fashion Week.

Getty Images for FENTY PUMA
Showing off her killer body yet again, the singer attended the 2016 MusiCares Person of the Year event in a sheer, embellished gown and pointy-toed converse-inspired sneakers, both by Marc Jacobs.

WireImage
Rihanna in Kiko Mizuhara for Opening Ceremony.

Getty Images
Rihanna in Giambattista Valli couture.

Getty Images
Rihanna in Vivienne Westwood Red Label.

Getty Images