Rihanna, Sock Entrepreneur and Style Icon, Wore A Pair of $1,340 Gucci Socks
Rihanna might have her own line of socks, but that doesn't mean she can't test-drive the competition.
---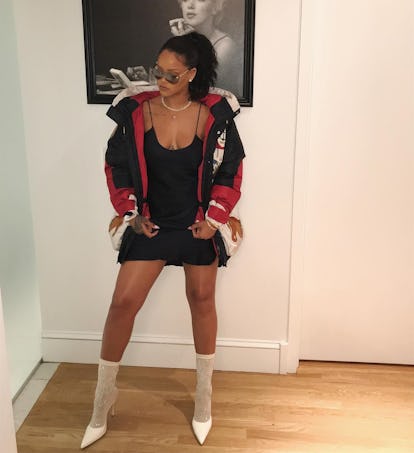 @badgalriri
There are many things that Rihanna is known for. The 29-year-old star has put out eight records, the latest of which, Anti, continues to chart more than a year after its release ("Desperado" earned the top spot on the Billboard dance chart just two months ago); she has a critically adored fashion label; she started a beauty empire rivaling that of any Jenner/Kardashian; and she has a street named after—the recently christened Rihanna Drive—her back in her home neighborhood in Barbados. So Rihanna's hosiery work might be relatively low on her list of accomplishments, but it's nevertheless worth noting that she has also released a handful of capsule collections in her ongoing collaboration with Stance, the socks and intimates brand she began working with in the fall of 2015.
But today, we are not here to talk about "Thottie or Nice," "Pimp Claus," or any of the other colorfully named styles in her Stance arsenal. No, we are concerned with a different footwear matter entirely: a pair of crystal-embellished Gucci socks the musician-slash-beauty mogul wore in a photo she posted to her Instagram on Wednesday. While the rest of us were just thrilled to be able to wear some of Rihanna's toughest looks—on socks, admittedly—Rihanna herself is upping the ante with the $1,340 socks illustrated with Gucci's interlocking-G logo in a web of crystals.
In the first image posted to her Instagram, Rihanna paired the socks with a black slip dress (not seasonally appropriate) and a sporty puffer jacket in red, white, and blue, with horses embroidered on its pockets (extremely seasonally appropriate.) In a second post, she zoomed in on the socks themselves, which she matched to a pair of stiletto mules, also white, captioning the picture "GanG." Of course, this is far from the first time Rihanna has made a bold statement in Gucci—for who could forget her Coachella look earlier this year, a crystal body suit one might have previously thought impossible to wear that she plucked off the Fall 2017 runway. One of the handful of images of the look she posted to her Instagram was captioned "I can't go home yet, cuz enough people ain't seen my outfit." There's little that might ensure "enough people" had seen her outfit the way broadcasting it to her nearly 60 million followers could.
Just a few hours after posting the Gucci socks on Wednesday, though, she had changed again, this time into a Céline t-shirt with a Proenza Schouler belt, silver pointy-toed shoes, navy trousers, and a Dolce & Gabbana overcoat. To top it all off, she wore a dark navy blue lip—which, if it's the same shade she posted to her Instagram stories, might be an upcoming Fenty Beauty product. After spending much of the year touting her Fenty Beauty line on her Instagram—her feed largely comprising campaign images and teasers—Rihanna is back to proving herself a formidable street style star. Which, as any fan of her Stance socks already knows, comes as little surprise. After all, it's been more than a year since she made her love for Japanese street style known.
Related: A Photographic Guide to Everyone Rihanna Has Reportedly Dated
Who Doesn't Have a Crush on Rihanna?