Rihanna Tapped Her Alter-Ego Rhenna To Design "Thottie Or Nice" Holiday-Themed Socks
Rhenna stars in the musician and designer's latest Stance collection.
---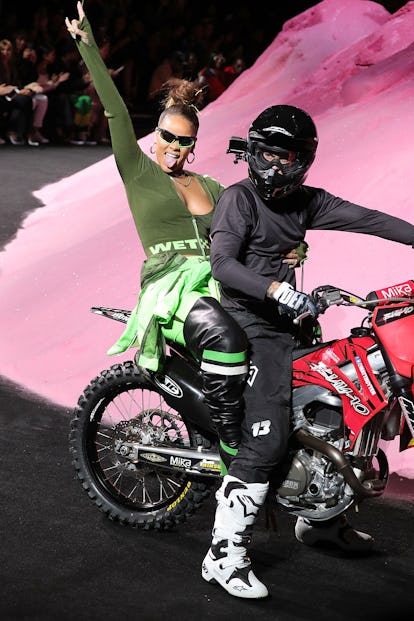 Paul Morigi/Getty Images
Having tackled her best looks in sock form, it was only a matter of time before Rihanna also tackled her best memes. And in her latest sock collection for Stance, a holiday capsule playfully named "Thottie or Nice," she does just that.
The collection features a mix of styles including simple calf-length ribbed socks in beige and navy blue, thigh-high tube socks wreathed in fur ("Fur Fatale"), and a duo of mid-height socks in ivory and burgundy, one side reading "Thottie" and the other reading "Or Nice." But the standout, which Stance described as "a gift specifically for her fans," features Rhenna, the stick figure Rihanna chooses to represent herself to her nearly 60 million followers. (Not pictured: Drake, who once frequented Rhenna's doodles but must now content himself with simply wearing Rihanna-designed socks.)
But it's not just any Rhenna that Rihanna has selected to illustrate her latest Stance socks. This Rhenna, importantly, has a generous glass of red wine in hand, a nod to Rihanna's other best meme: the seemingly limitless paparazzi photos capturing the musician and designer departing restaurants and clubs with a glass of wine still at her side. Red or white or rosé, stemless or stemmed, the IRL Rihanna doesn't discriminate. It depends on the mood, it seems. When it comes to her socks, though, Rhenna prefers red, stemmed.
As Rihanna's Stance collaboration has matured, it's gotten increasingly personal, with nods to her fan base (thus the memes) as well as to her main Fenty x Puma line. But the latest collection is a bit subtler in design than some of Rihanna's previous efforts, contrasting with the elaborate Japanese street style-inspired capsule (and in lieu of Bijou Karman's designs, there are instead somewhat unnerving lookbook images of socked feet perched in Christmas trees). Rhenna is, admittedly, a much easier look to pull off than those that adorn the socks in Rihanna's last Stance collaboration. A glass of wine is a much more forgiving accessory than, for example, a gold, fur-trimmed silk cape.
Rihanna might not be getting into the liquor business after all, but she's still not shying away from broadcasting her—and Rhenna's—fondness of a hefty glass of red. @badgalriri is a last vestige of the sadly departed AIM screen names, and Rhenna is a perfect homage to bygone display pictures.
Related: A Photographic Guide to Everyone Rihanna Has Reportedly Dated
Nick Jonas dramatically reads Craigslist "Missed Connections" listings: