Rihanna, Wine Connoisseur, Is Not Actually Getting Into the Liquor Business Just Yet
A trademark for Fenty Estates Wine and Spirits was filed last month—but it's not the same Robyn Rihanna Fenty who's been putting her stamp on beauty and fashion.
---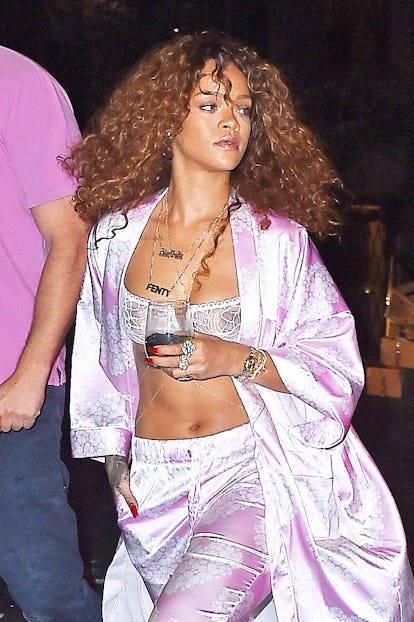 NCP/Star Max/Getty Images
It's no secret that Robyn Rihanna Fenty is a wine drinker. After all, a glass of wine to go might be her favorite accessory—or at least, the one she's most frequently spotted carrying. White or red, stemless or stemmed glass, Rihanna has a wine for all seasons, and for all looks. (Red wine with a cabernet-colored velvet slip, for example, or white with an ivory fur Balenciaga wrap—or, most recently, at the Fenty Beauty holiday launch in Paris, champagne with Calvin Klein by Appointment.)
A new trademark filing that surfaced over the weekend seemed to indicate Rihanna might be looking to get into the vineyard business for herself, and not just the vineyard-appreciation business. "Fenty Estates Wine and Spirits Company" was submitted to the U.S. Patent Office last month, as a Rihanna fan account noted on Twitter over the weekend. (@fentyy captioned, aptly, "This is not a drill.") It was updated earlier this month, and record of the trademark on Trademarkia indicates it will be processed by early next year—at which point, perhaps, Fenty Vineyards can open for business.
Cue the eagerly anticipatory fans. Excitement broke out across Twitter when the trademark was first tweeted out; however, as The Fashion Law reported Monday, the trademark was filed by something called "JGC Global LLC," while many of the musician's previous trademarks were under the auspices of "Roraj Trade." (In fact, the sit ealso reported Rihanna does not own any trademarks affiliated with her last name so far; the fan frenzy that reports of the trademark filing brought with it, though, might be expected to lead her to rectify that.)
The Fenty Estates trademark emerged when an astute fan noted an application had also been submitted for "House of Fenty," described as "cosmetics, non-medicated skin care preparations; namely: creams, lotions, gels, toners…" (So, you know, you would be able to remove a glowing face of Fenty Beauty with a House of Fenty cleanser.) The Rihanna Navy started digging into other recent filings under the Fenty name, and Fenty Estates emerged. (Though it seems to have been proved bogus, given her aforementioned appreciation of wine on the go, it's not tough to believe.)
Earlier this year, Rihanna launched the first, and then the second, collections of her new beauty line, Fenty Beauty. She showed the fourth season of her Fenty x Puma collection. She launched her latest collaboration with Stance socks, adorned with some of her best looks of all time. She premiered a movie, Valerian and the City of a Thousand Planets. It's already quite a lot, without adding vineyards and distilleries to the mix.
Given that the musician-actor-beauty mogul is also something of a francophile, it's likely she picked up some knowledge of terroir and grape varietals and the finer points of sniffing and spitting. And since Rihanna does not do anything halfway—whether playing an alien stripper on screen or releasing 40 different foundation shades—we would expect nothing less of her own liquor brand. But unfortunately, on that front, we'll have to wait.
This story has been updated to reflect new information.
Related: Martha Stewart Is Now Selling Martha Stewart-Approved Wine
Is Red Wine the Best New Ingredient for Flawless Skin? These 5 Supplements Suggest Just That
Getting ready for Tom Ford's New York show with Cindy Crawford: