Cardi B's Pregnancy Mini Saga Gave Us Hilarious Denials and Amazing Poufy Dresses
How to deal with an Invasion of Privacy like only Bardi can.
---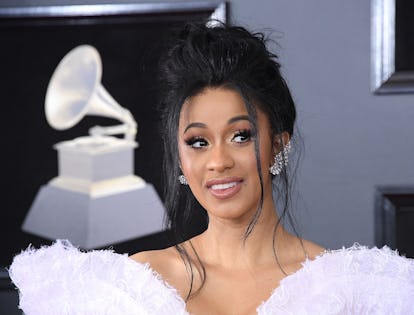 Steve Granitz/WireImage
Well, Cardi B is definitely pregnant. TMZ first reported that the "Bodak Yellow" rapper was expecting her first child with fiancé Offset a few weeks ago, though she refused to comment. Before that, she claimed that she wasn't pregnant, just gaining weight, coining the still-iconic phrase, "let me fat in peace," after a fan asked her point-blank about her pregnancy on Instagram.
Which is all totally fair, we don't have a right to know what's going on inside her body, but also, at a certain point she was definitely trolling the public, making appearances in outrageously puffy dresses that obscured not just her stomach but her entire body. Remember these?
To reiterate what we all spent Kylie Jenner's convalescence thinking: "Yep, she's pregnant."
And now it's confirmed! In addition to performing two songs on Saturday Night Live last night, she also revealed her baby bump in a clingy, gauzy white dress. No offense to the cast, host Chadwick Boseman, or guest star Alec Baldwin, but this was definitely the most exciting part of the episode. What, you thought she was just going to be a musical guest and not have her moment in the spotlight? Please.
Backstage, Cardi reveled in her freedom. No more hiding in ridiculously poufy dresses!
She also posted to Instagram stories about why she kept the news private for so long, citing the haters who would "scrutinize and destroy" this awesome news. Her new album is called Invasion of Privacy, so this is definitely something that's on her mind. Don't listen to them, Cardi! You and Offset are blessed and this is cute.
It's worth mentioning that this is absolutely the most Cardi B way to make a pregnancy announcement. She would never just post something to Instagram or release a statement through her PR. No, Cardi had to be a little bit extra and keep us all in suspense, then make the reveal live on national television while singing "Be Careful," a song about being better than the girl her man cheated on her with. It reminds us a little of Beyoncé's first pregnancy reveal when she sang "Love on Top." Check out the full performance below:
Congratulations, Cardi and Offset! May your family be as fun and extra as you are.
Related: Cardi B's Invasion of Privacy: All the People She Name-Drops on the Album
Cardi B Is Everyone's Favorite New York Fashion Week Front Row Seatmate
Whoopi Goldberg, Meg Ryan, Molly Shannon and Cardi B sat next to each other in the front row at Christian Siriano's Fall 2018 show.

Photo by @theofficialsuperstar.
Rosie Huntington-Whitely and Zayn were seated next to each other at Tom Ford's Fall 2018 NYFW show.

Photo by @zayn.
Halsey and Sebastian Stan at Tom Ford.

Photo by @iamhalsey.
Dev Hynes performed during Telfar's musical Fall 2018 show, along with Ian Isiah, Kelela, Oyinda, 070 Shake and Kelsey Lu.

Photo by @devhynes.
Diddy's sons Justin Combs and Christian Combs shared a slice of pizza in the front row at NYFW.

Photo by @princejdc.
Brandon Thomas Lee and Myles O'Neal buddied up in the front row at NYFW.

Photo by @brandonthomaslee.
Maya Jama and Victoria Justice were seated together in the front row at Philipp Plein.

Photo by @victoriajustice.
A$AP Rocky and Liya Kebede posed together backstage at Raf Simons.

Photo by @liyakebede.
Gigi Hadid went full Fifth Element in this neon pink wig at the Jeremy Scott Fall 2018 NYFW show.

Photo by @gigihadid.
Kimberly Drew wore PH5 in this NYFW elevator moment.

Photo by @museummammy.
Sebastian Stan at Hugo Boss

Photo by @imsebastianstan.
Queen Latifah snapped a selfie with director Lee Daniels at the annual amFAR gala to kick off New York Fashion Week.

Photo by @queenlatifah.
Timothée Chalamet crashed a L'Officiel dinner date between Armie Hammer and his wife Elizabeth Chambers.

Photo by @armiehammer.
Cardi B stole the show at Jeremy Scott's Fall 2018 show during New York Fashion Week.

Photo by @iamcardib.
Alexa Chung skipped through the cold city streets in between NYFW shows.

Photo by @alexachung.
Justin Theroux and Petra Collins sported Adam Selman tees together during NYFW.

Photo by @justintheroux.
Kate Upton, Jourdan Dunn, Maya Jama and Victoria Justice in the front row at Jonathan Simkhai's Fall 2018 NYFW Show.

Photo by @mayajama.
Diddy's son Christian Combs posed outside of Tom Ford's Fall 2018 show during New York Fashion Week.

Photo by @kingcombs.
Anwar Hadid cheesed for the camera with Nicola Peltz outside of Tom Ford's Fall 2018 show.

Photo by @anwarhadid.
Lala strutted down her hotel hallway, looking like a smooth criminal before the Tom Ford show.

Photo by @lala.
Kelela struck a pose at Adam Selman's NYFW show.

Photo by @kelelam.
Kate Upton touched down in front of Philipp Plein's spaceship during NYFW.

Photo by @kateupton.
Keke Palmer at Hellesy's Fall 2018 New York Fashion Week show.

Photo by @keke.
Zoey Deutch sat next to Tory Burch at the Tory Burch Fall 2018 NYFW Show, and loved "getting to pick her brilliant and artistic brain."

Photo by @zoeydeutch.