Cardi B Recreated a 1995 Chanel Look Worn By Linda Evangelista
And the model has already approved.
---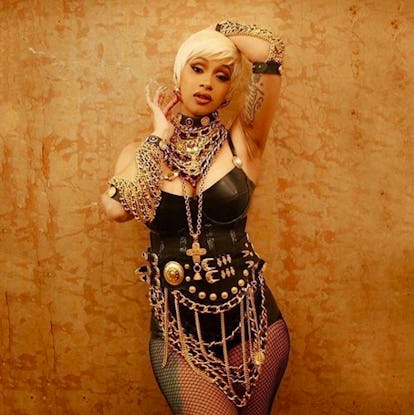 instagram.com/vexclothing
Cardi B is well on the way to becoming an icon in her own right, but on the way there she's been paying dues to others that have come before her. While performing the song "Money Bag" from her recently dropped debut album, Invasion of Privacy last night during a co-hosting stint on The Tonight Show Starring Jimmy Fallon, Cardi B did so in an outfit nearly identical to a Chanel one made famous by Linda Evangelista.
It was fitting, too, considering in the song Cardi says, "I'm lookin' like a money bag." Draped in gold chains, a heavy duty belt, and a black bodysuit, the rapper paid homage to the super model's 1995 spread for Harper's Bazaar, as the fashion watchdog Instagram account Diet Prada pointed out with a side by side comparison, adding that the look has "a touch of Gianni [Versace] as well." Cardi B nailed the look down to a pixie cut blonde wig.
Evangelista was clearly a fan, too. "♥️♥️♥️ Dying!!! ♥️♥️♥️ @iamcardib ♥️♥️♥️," the model wrote on Instagram, reposting the diptych.
While Cardi B's interpretation wasn't Chanel, it was custom. She wore Vex's Marilyn Bodysuit with custom accessories created by Laurel Dewitt, as both parties confirmed on social media. "When @kollincarter called me to reimagine the accessories in the iconic 1990s photo of @lindaevangelista for @iamcardib for her performance on the @jimmyfallon show of course I said yes!!!," Dewitt wrote.
The look isn't just special because it's a throwback to Linda Evangelista, though. It also marks the first time Cardi B has performed after showing off her pregnancy to the world on Saturday Night Live in a bodycon white dress. "I honestly feel like it was a moment where we couldn't wait to give sex appeal again," Dewitt later explained to Vogue of the Chanel-indebted outfit. "We wanted to show that being a woman that is carrying doesn't strip you of your sexiness. Anything can be done in good taste."
Related: All the Highlights from Cardi B's Cohosting Appearance on Jimmy Fallon, Which Of Course Made the Case She Should Replace Him on His Own Show