Cardi B Posed for a Naked Photo Six Weeks After Giving Birth and She Looks Like a 'Goddess'
Six weeks after giving birth.
---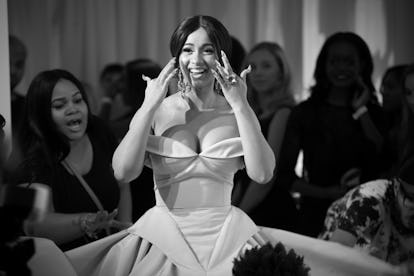 Lexie Moreland
It is an unfortunate reality that celebrities bodies and, especially, post-pregnancy bodies are treated like chalkboards for the public to give their unsolicited opinions on. Cardi B, however, is working that system in her favor. She didn't hesitate to show off how quickly she rebounded from giving birth to Kulture Kiari Cephus in a new Instagram post shared by her husband, Offset.
Over the weekend, the Migos member shared a nude photo of Cardi B putting her long pink hair and matching tattoos on display. "W I F E Y G O D D E S S B E A U T Y," Offset wrote in the caption of the photo, which has since amassed more than 1.5 million likes.
The photo came in the wake of lingerie ones she posted a few days ago with the caption, "im on my way to you."
The rapper also posted the same photo Offset took, with the unapologetic caption, "I DO WHAT I LIKE, I DO, I DO!"
While she's no longer pregnant, she is sticking to the more low-key attire she transitioned into during her pregnancy. "I am at this point in life where I do not want to wear no heels, no sneakers or anything that is closed toes," she shared with her followers back in June. "I don't want to wear jeans or sweats, I don't want to wear a bra. I just want to be bear [sic] footed all day."
Cardi B reminded the world that she can do anything she wants earlier this month when accepting the award for Best New Artist at the VMAs. "I'm so happy to receive this award," she said in her acceptance speech. "A couple of months ago a lot of people were saying, 'You're gambling your career! You're about to have a baby, what are you doing?' And you know, I carried the baby, I had the baby, and now I'm still winning awards!"
Her only limitation? "I met my match," she recently said of her daughter Kulture on Twitter. "She is very demanding. I can't believe I have a boss. I really have a boss." Judging by these photos, though, Cardi B is still fully in control in at least one way.