Cardi B's Surprise Birthday Party Featured Diamonds and Celebrities, but Not Enough Food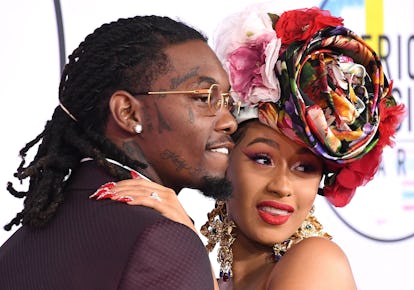 Steve Granitz/Getty Images
Over the weekend, Cardi B celebrated her 26th birthday, and the celebration was just as opulent as you'd expect from someone whose Louboutin collection was reportedly once estimated at over 90 pairs. As The Cut reported, Offset promised her an intimate dinner at Los Angeles's Beauty & Essex, only to surprise her with an over-the-top soirée. Instagram evidence from the night shows that the rapper did not skimp on either party favors or gifts for Cardi. He got her a set of matching diamond earrings, necklace, and bracelet—all spelling out "Kulture," the name of their daughter—as well as a diamond-adorned Rolex, six dozen red roses (according to The Cut), and a double-decker cake decorated with enough roses to serve as a bouquet on its own. Guests included at least one Kardashian (who aren't so sedate themselves when it comes to birthday bashes).
Amid all this excitement, it looks like the one thing Offset did forget was food. Afterwards, Cardi was left so hungry that she commented on her lack of sustenance not once but twice. "The fact that i avoided eating dinner last night cause babe said we was going to a romantic dinner then BOOM!!," she wrote in the caption of an Instagram post."Thank you everybody that showed up to my surprise bday party !It was Soo beautiful Thank you babe for the surprise and everybody who was involved !"
"Hubs told me he was gonna take me to dinner, and I appreciate the surprise party and all that, but I'm fcking hungry right now," she later added in an Instagram Story posted from her bed, according to The Cut.* "I'm hungry, but I'm so happy, I just…"
The most delightful part of this whole story, though, is the knowledge that Cardi B's idea of low-key romantic dinner-date wear is a head-to-toe Moschino ensemble that appeared on the Milan runway less than a month ago. Happy birthday, Cardi!
Related: Cardi B Gets Candid: Hip-Hop's Fiercest Female Rapper Speaks Out About Her Past, Her Career, and Being a New Mom