Exclusive: Carlotta Kohl Shares Her Hood to Coast Running Diary
The photographer and It-girl talks about running the Nike-sponsored relay race.
---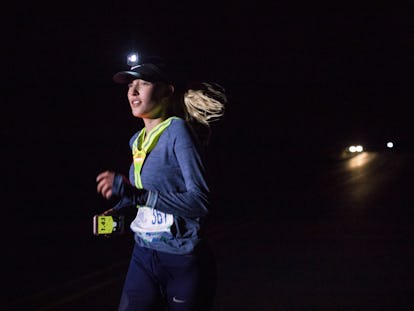 STEFANIA CURTO
Last weekend, while you were soaking up the final days of summer with a glass of rosé and a lobster roll, Carlotta Kohl, Instagram-beloved photographer, was running a grueling relay race. Embarking in Hood to Coast, the world's largest relay race, Kohl descended upon Portland, Oregon to take part as a member of a team sponsored by Nike. For her leg of the race, Kohl ran 15.8 miles over the course of three days, following a summer full of training in-between professional gigs like modeling as the face of Juicy Couture's latest advertisements and lensing campaigns for Her swimwear. Here, the multi-hyphenate breaks down her experience and shares exclusive images from the race.
How did you first hear about this race?
I learned about the Hood to Coast race through Nike. I actually didn't know about it before which is crazy because it is one of the world's largest and longest relay races.
What were your initial thoughts about running a race?
I'm a runner but I got into it late in the game. It's never been something I did competitively, but rather an activity I did by myself for fun. I thought it would be an interesting challenge to take on.
What was your biggest fear going into this?
Exhaustion and getting injured were definitely my biggest fears. Since the race goes through the night and into the next day, I was afraid I wouldn't be able to sleep during the legs of the relay race I wasn't running.
What was the training process like?
My team and I met up once a week for a group run that was anywhere between 4 to 6 miles. Our training workouts were based around the conditions of the race. We practiced running uphill, downhill, at night and early in the morning. The week leading up to the race we met twice a day to essentially prepare ourselves to work out when tired. On my own, my workouts alternated between long runs, short runs, and mobility workouts.
What music did you listen to while training to get you pumped?
Music is a huge aspect of why I like to run. I love getting lost in a song while physically pushing myself. My Spotify playlist is all over the map. I like anything from '90's hip-hop to disco to classical music. Also Rihanna.
]What was your day-of prep like?
The day of the race I made sure to stretch, keep hydrated, and to eat something I was used to several hours before I ran.
How did you feel while running the race?
While running the race, I felt extremely empowered because of those moments where I wanted to give up but didn't. It was a beautiful experience in so many ways. The act of running is something that feels so free and cathartic. Having complete strangers cheer me on and encourage me while I ran through their town along the coast of Oregon was surreal. It felt like something bigger. This race unifies people.
What was the hardest part of the overall experience?
The hardest part would have to be the conditions of the race. Having to run your hardest in the hottest time of the day with a couple hours of sleep is a real test in endurance.
What was your favorite part of the overall experience?
My favorite part of the Hood to Coast race would have to be bonding with my teammates Nike brought together. The only reason this experience was as great as it was is because I had the world's most supportive team. Teamwork makes the dream work!
What advice would you give people about to run their first race?
My advice to first-time racers would be to only worry about challenging yourself. If you give it your all, that's winning in my book.
Related: How Lorde Ended Up Wearing a Metallic Nike Tutu In Her Now-Viral Performance at the 2017 MTV VMAs
Petra Collins Dreams of Sleeping in a Room That Is One Giant Bed, With Rihanna If Possible