How Lorde Ended Up Wearing a Metallic Nike Tutu In Her Now-Viral Performance at the 2017 MTV VMAs
The singer donned a Jourden x Nike VaporMax Dress for her performance of "Homemade Dynamite."
---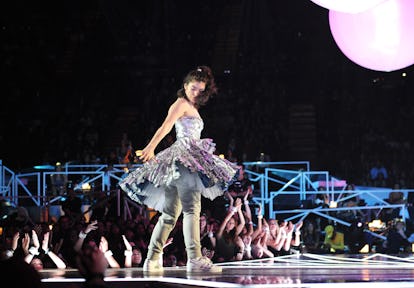 Joshua Blanchard/MTV1617
When are you scheduled to perform in front of millions of people at one of the biggest awards shows in the world, and you come down with a particularly terrible bout of the flu, it's probably more than okay to cancel your performance (hell, The Weeknd pulled out of his 2017 VMAs performance with nary a Tweet offering explanation). However, if you are Lorde, apparently the show must go on.
Despite being so ill that her pre-show glam session involved a needle drip of medication ("you can't tell in these pictures but i have the flu so bad i needed an IV #showgoeson #cutelilproppedupcorpse" the singer wrote on Twitter), Lorde still showed up for Sunday night's VMAs, where she not only was among the night's best dressed in a feathered Monique Lhuillier gown, she also pulled off one the evening's most buzzed about performances: a choreographed routine to her song "Homemade Dynamite."
Since her illness prevented her from actually, you know, singing, the performer instead did her best interpretation of a Sia music video with a highly emphatic dance routine as her latest single played over the loudspeaker. The performance was all the more punctuated by her ensemble: an asymmetrical strapless silver tutu worn over a pair of sweatpants and sneakers.
The unique look comes with an equally unique dressing credit: Jourden x Nike VaporMax. The piece is part of a collection that Jourden, a Hong Kong-based womenswear label founded by designer Anais Jourden Mak that was a semifinalist in the 2015 LVMH Prize for Young Fashion Designers, collaborated on with NikeLab and is inspired by the Nike Air VaporMax technology. Following Lorde's performance, Mak explained how the collaboration with Nike came to be, and how the singer ended up writhing around the VMAs in it.
How did you first get teamed up with Nike?
Earlier in 2017 I joined Nike Hong Kong's running team for the Hong Kong Marathon, and in turn there were a few interesting collaborations and campaigns with female athletes. Later on in March, I was asked to design an exclusive concept piece for their Nike Vision-airs exhibition project to celebrate the launch of their Vapormax runner in Hong Kong. I was glad for the opportunity, to combine my take on femininity with the ultra sleek design of the Nike Vapormax. I was hoping instead of designing a overtly sports-related piece, I would like to approach the project more as a manifesto for the joy, pride and determination of a modern women in pursuing their own very facet of life, be it sports or technology, which are still predominantly associated with masculine aspirations.
Tell me about this particular design that Lorde wore to the VMAs.
This exclusive piece is a deconstructed asymmetrical gathered dress with a metallic synthetic material normally used for sportswear or windbreakers. I combine that with a traditional way of making clothes, with lots of ruffles and gatherings. It always comes down to textures, and these are achieved very traditionally. When we use school techniques in unexpected ways to create new textures, it creates a new context. It is also a take on the notion of dressing up and embracing the human body that is more about twisting the codes of the classic feminine look than breaking them. I see a similarity in this approach with how Nike is always revitalizing their product range and fitting sports into present day living in proposing a certain life style and attitude, aside from the sleek futuristic design with the Vapormax runner while at the same time being extremely human and comfortable.
And how did she end up wearing the piece on Sunday night?
I watched Lorde's performance at the Fuji Rock Festival in Tokyo a month ago where she made a really heartfelt speech on young women and life progression, and I was mesmerized by her performance. I was totally thrilled upon return to hear [stylist] Karla Welch would like to arrange this exclusive piece in early August for Lorde's performance. There were fittings and adjustment of the proportions of the dress. I love the final look, and that working with stylists and artists has always provide fresh perspectives in seeing the designs, which always propel me into new directions I could have never thought of.
How would you describe your brand's aesthetic, generally speaking?
Jourden has always been about feminine aspirations. The collections are a subtly perverted take on formal femininity hooked on controlled volumes and fabric experimentation. Mixing artisanal and industrial techniques to make clothes that are utterly modern; collections that lend themselves to all types of girls and lifestyles.
Related: After Melodrama, Lorde Confronts Some Internet Drama, Compares Celebrity Friendships to Autoimmune Diseases
MTV VMAs 2017: Katy Perry, Lorde, Paris Jackson, and All the Rest of the Red Carpet Fashion
Katy Perry attends the 2017 MTV Video Music Awards at The Forum on August 27, 2017 in Inglewood, California. (Photo by John Shearer/Getty Images for MTV)

John Shearer
Lorde attends the 2017 MTV Video Music Awards at The Forum on August 27, 2017 in Inglewood, California.

Getty
Millie Bobby Brown attends the 2017 MTV Video Music Awards at The Forum on August 27, 2017 in Inglewood, California. (Photo by John Shearer/Getty Images for MTV)

John Shearer
Nicki Minaj attends the 2017 MTV Video Music Awards at The Forum on August 27, 2017 in Inglewood, California. (Photo by Kevin Mazur/WireImage)

Kevin Mazur
Paris Jackson attends the 2017 MTV Video Music Awards at The Forum on August 27, 2017 in Inglewood, California.

Getty
Nicole Tuck, DJ Khaled and Asahd Tuck Khaled attend the 2017 MTV Video Music Awards at The Forum on August 27, 2017 in Inglewood, California. (Photo by Steve Granitz/WireImage)

Steve Granitz
Jared Leto attends the 2017 MTV Video Music Awards at The Forum on August 27, 2017 in Inglewood, California. (Photo by Christopher Polk/Getty Images)

Christopher Polk
Lil Yachty attends the 2017 MTV Video Music Awards at The Forum on August 27, 2017 in Inglewood, California.

Getty
Carey Hart, Willow Sage Hart, and Pink attend the 2017 MTV Video Music Awards at The Forum on August 27, 2017 in Inglewood, California. (Photo by Rich Fury/Getty Images)

Rich Fury
Demi Lovato attends the 2017 MTV Video Music Awards at The Forum on August 27, 2017 in Inglewood, California.

Getty
Cardi B attends the 2017 MTV Video Music Awards at The Forum on August 27, 2017 in Inglewood, California.

Getty
Shawn Mendes attends the 2017 MTV Video Music Awards at The Forum on August 27, 2017 in Inglewood, California.

Getty
Vanessa Hudgens attends the 2017 MTV Video Music Awards at The Forum on August 27, 2017 in Inglewood, California. (Photo by Kevin Mazur/WireImage)

Kevin Mazur
Pete Davidson and Cazzie David attend the 2017 MTV Video Music Awards at The Forum on August 27, 2017 in Inglewood, California. (Photo by Alberto E. Rodriguez/Getty Images)

Alberto E. Rodriguez
Yara Shahidi attends the 2017 MTV Video Music Awards at The Forum on August 27, 2017 in Inglewood, California. (Photo by Christopher Polk/Getty Images)

Christopher Polk
Hailee Steinfeld attends the 2017 MTV Video Music Awards at The Forum on August 27, 2017 in Inglewood, California. (Photo by Kevin Mazur/WireImage)

Kevin Mazur
Hailey Baldwin attends the 2017 MTV Video Music Awards at The Forum on August 27, 2017 in Inglewood, California. (Photo by John Shearer/Getty Images for MTV)

John Shearer
Olivia Munn attends the 2017 MTV Video Music Awards at The Forum on August 27, 2017 in Inglewood, California. (Photo by Christopher Polk/Getty Images)

Christopher Polk
Noah Cyrus attends the 2017 MTV Video Music Awards at The Forum on August 27, 2017 in Inglewood, California. (Photo by Alberto E. Rodriguez/Getty Images)

Alberto E. Rodriguez
Dinah Jane, Ally Brooke, Normani Kordei, and Lauren Jauregui of Fifth Harmony attend the 2017 MTV Video Music Awards at The Forum on August 27, 2017 in Inglewood, California. (Photo by John Shearer/Getty Images for MTV)

John Shearer
Jasmine Sanders attends the 2017 MTV Video Music Awards at The Forum on August 27, 2017 in Inglewood, California.

Getty
Tomo Milicevic, Shannon Leto and Jared Leto attend the 2017 MTV Video Music Awards at The Forum on August 27, 2017 in Inglewood, California. (Photo by Jon Kopaloff/FilmMagic)

Jon Kopaloff
Julia Michaels attends the 2017 MTV Video Music Awards at The Forum on August 27, 2017 in Inglewood, California.

Getty
Jack Lawless, Joe Jonas, JinJoo Lee and Cole Whittle of musical group DNCE attends the 2017 MTV Video Music Awards at The Forum on August 27, 2017 in Inglewood, California.

Getty
Jack Antonoff attends the 2017 MTV Video Music Awards at The Forum on August 27, 2017 in Inglewood, California.

Getty
Mel B and Heidi Klum attend the 2017 MTV Video Music Awards at The Forum on August 27, 2017 in Inglewood, California. (Photo by John Shearer/Getty Images for MTV)

John Shearer
Lil Mama attends the 2017 MTV Video Music Awards at The Forum on August 27, 2017 in Inglewood, California. (Photo by Rich Fury/Getty Images)

Rich Fury
Lizzo attends the 2017 MTV Video Music Awards at The Forum on August 27, 2017 in Inglewood, California. (Photo by Jeff Kravitz/FilmMagic)

Jeff Kravitz
Echosmith attends the 2017 MTV Video Music Awards at The Forum on August 27, 2017 in Inglewood, California.

Getty
Eudoxie Mbouguiengue and Ludacris attend the 2017 MTV Video Music Awards at The Forum on August 27, 2017 in Inglewood, California. (Photo by Frazer Harrison/Getty Images)

Frazer Harrison
Katy Perry Confesses to Crying to Some of Her Own Songs