Lorde Stuns in Nine Dramatic Looks in Her "Perfect Places" Music Video
You might say they're perfect.
---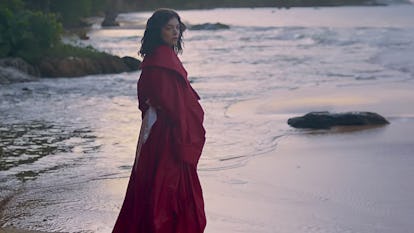 LordeVevo/YouTube
Lorde's style just keeps getting better and better. The singer just dropped the second music video from her latest album, Melodrama, and while the visuals are stunning—Lorde seems to have a tropical island all to herself—the fashion is her most intense yet for a music video.
The video for "Perfect Places," which was directed by Grant Singer, opens with a shot of the 19-year-old holding a machete and wearing a white work suit, topped with a wide-brimmed, straw field Jacquemus hat. Hats seem to be a theme throughout the video, with a black bandana, a dramatic beaded fascinator hat with netting, and an oversized sheer yellow floppy hat all making appearances.
Lorde also plays with volume in the video, sporting both a robe-like deep red dress with oversized lapels on the beach and a corset top with white ruffled skirt in the jungle. Ruffles show up again in a simple black dress that she wears while swimming and she chooses a champagne-colored dress with a tank top and tulle bottom for scenes by the water. Other looks include a bejeweled red slip dress, yellow embroidered caftan, nude silk slip dress, and a ripped T-shirt with white linen pants.
With nine wardrobe changes throughout the just-over-four-minute music video, Lorde is stepping up her sartorial prowess, which has evolved from goth queen in black, full-length dresses, paired with a cascade pf curls and dark lips to a more refined, sexy, glam look that's a bit more tame but just as witchy (and bewitching).
The card-carrying member of Taylor Swift's squad currently works with super stylist Karla Welch. And from the looks of it, more royal-worthy looks are on the horizon.
Related: Lorde Tells Seth Meyers About Getting Trapped on New York City Subway
See What's Trending in W Video: