How Caroline Vreeland Stays Looking "Refreshed AF" While Jetsetting All Over the World
Plus, see pictures of her late-night fashion romp around Cannes.
---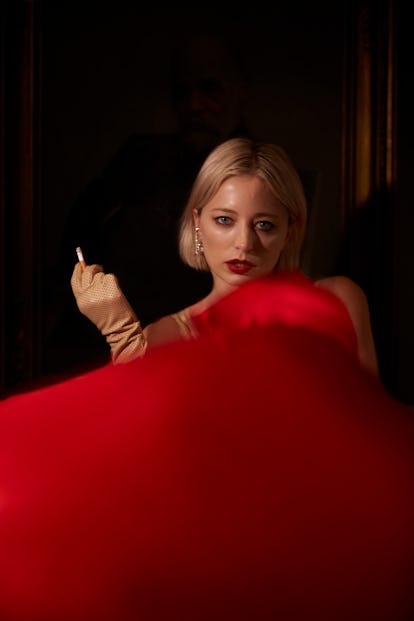 Vreeland wears stylist's own lingerie, Causse gloves, and her own personal earrings. Photo by David Hatters, Styling by Henry De Castillon, Art Direction by Mattia Ferrari, Hair by Sarah Adams at Crowd Management, Makeup by Andreea Ali and Stephanie Glitter. Fashion Assistants: Alessia Ansalone, Margherita Alaimo.
Caroline Vreeland is no stranger to a glamorous destination. The great-granddaughter of iconic editor Diana Vreeland, the multi-hyphenate has made a name for herself as both a singer and an actress, as well as one of fashion's most popular newcomers. The demand for her talents means Vreeland is often jetting off to Miami, Paris, and pretty much everywhere in between. So how does she keep the thrill of travel alive? By turning what inspires her about a locale into a full-fledged photo shoot.
During a recent trip to the south of France for the Cannes film festival, she assembled a crew of friends to create a full-scale and fully glamorous fashion story, which she shared exclusively with W, here. But Vreeland isn't just about glamour; she's quick to share her flaws with the world as well. Here, she talks about the best beauty advice she's ever received, her policy for posting blemishes on Instagram, and more.
What was the inspiration behind this shoot?
Being in Cannes for the film festival is an amazing experience but also a super-hectic one. From the minute you wake up, you're busy running around, and it doesn't stop until late at night. The only time we had to shoot was in the middle of the night, after events. My friend and art director Mattia [Ferrari] set up a villa so everyone could stay in one place, including makeup, hair, stylist, and photographer, so we had free rein for our creative process. It didn't hurt that we all fell in love with one another and were able to make this amazing shoot happen.
How long have you been traveling to Cannes?
This was my fourth time attending the Cannes film festival. The first time was as a spectator, when I was quite young; the next couple of times were with brands I was acting as an ambassador for. But this time was the most special for me as I had just finished shooting my first feature film, called Sazarac, produced by Nick Cassevetes, in which I play the female lead, a demonic woman living in a cult who kidnaps children and sells their souls to the devil. We didn't wrap the film in time to apply to Cannes, but it still felt special to be able to be there to promote my first real movie.
What are some of your favorite Cannes memories?
Taking that first long walk out onto the carpet during amfAR in Cannes is quite possibly the most glamorous thing on Earth. I've gotten the chance to work with amfAR over the past couple of years, and it's truly an honor to be involved with the work they're doing to end the AIDS epidemic.
What are your must-see spots in Cannes?
Well, you know me. My answer is obviously the cheese pizza at La Pizza Cresci, across from the marina.
What are your favorite French beauty products?
I am currently obsessed with my gorgeous friend Violette's collab with Estée Lauder, called Poppy Sauvage. But when I think beauty and France, I just imagine a healthy, postcoital glow in the cheeks and a brisk walk down a cobblestone street to get coffee to bring back to your lover. Divine!
When you wake up in the morning, what is the first thing you do beauty-wise?
When I wake up, I rinse my face with Skin Worship Cleansing Ritual. It is super-calming and light, but makes me feel refreshed AF. I follow with Biologique Recherche Lotion P50, and next I apply their colostrum, collagen, and elastin serums. Then I pile on lots and lots of sunscreen. I love to use Revisions Skincare's anti-aging tinted moisturizer with broad spectrum SPF.
And what is your nightly bedtime beauty routine?
At night I use Biologique Recherche's placenta serum and Skin Worship Hydrating Ritual 2, which is my all-time fave moisturizer.
Who is your beauty icon?
I cry when I see Lupita Nyong'o's face. No, really, it's a thing. I can't not cry when I see her. She's so beautiful because she has a kindness and a joy that you can see comes from deep inside. Other than her, it's always Elizabeth Taylor in Cleopatra for all the most important dramatic beauty moments ever. The blue cat eye! The bath with the ships floating in it!
What is the best beauty advice you've ever received?
My mom always told me to keep my shoulders down and my head up. I was always taught from a young age not to slouch or have poor posture. Also I grew up with this quote from my great-grandmother ever present in my mind: "The only real elegance is in the mind; if you've got that, the rest really comes from it."
This is why so often on my social media I like to show the less glamorous side, as well as the "all dolled up" looks; the tears, the zits, the scars, no makeup. I hope our generation doesn't forget that we aren't only beautiful if we Facetune and apply filters; we are beautiful because we're flawed.
What is the best beauty trick you've picked up on set?
Before any shoot or event, I apply a KNC Beauty lip mask—I'm addicted. It makes the lips fuller and softer for the whole day.
What is your favorite shade of lipstick?
This season, I'm obsessed with NARS Summer Fire, but my go-to is always Ruby Woo by MAC. It is just the best red.
What is one beauty item you recommend everyone to buy?
RMS Living Luminizer. Best highlighter on Earth. And Aquaphor for lips.
What is your go-to beauty look for a night out?
I've been really into blush lately. I never used to wear blush, so it feels really fresh for me right now (consider the aforementioned postcoital glow). I've been mixing NARS Free Soul and Orgasm for the perfect rosy cheek. On lids, I only use Tom Ford Naked Bronze Creme eye color, which is great for blue eyes. And Marc Jacobs makes the best mascara, called Velvet Noir.
What is your beauty routine when you are on vacation?
Coconut oil everywhere, especially in my bleached hair, which really needs it. I'll apply it the whole time I'm in the sun, and then I'll just comb it back into a slick look for the night. And tons of SPF. If I want to add a tiny bit of makeup for dinner, I'll just do Glossier Boy Brow in blond and a red lip stain. I like Fast Ride by NARS.
What is your weirdest beauty habit?
Whenever I'm feeling my worst, I take photos and immediately address what I see: crying, puffy eyes, zits, etcetera. I like to share these images on my socials. I think it is important for us to remember that we are always beautiful even when we aren't perfect. It is the imperfections and unique qualities that we have that make us interesting. To me, the cookie-cutter perfect life, always glam and edited stuff, isn't a turn-on.
Related: Up Close and Personal Portraits of Fashion's Icons, Including Yves Saint Laurent and His Chihuahua