A SERIES OF UNFORTUNATE EVENTS
Is "Carpool Karaoke" Cursed?
The Late Late Show's popular karaoke series has experienced its fair share of setbacks recently.
---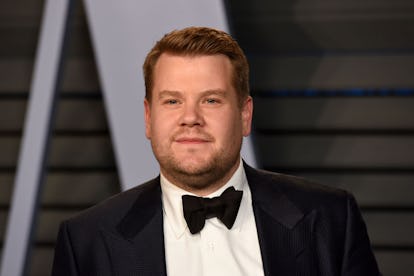 Presley Ann/Getty Images
"Carpool Karaoke," the popular late-night segment wherein recording artists ride shotgun while The Late Late Show host James Corden drives them around and sings the artists' biggest hits, is probably cursed.
Everyone from Justin Bieber to Kelly Clarkson to Shawn Mendes has participated over the years, and it even sparked its own Apple TV version of the series. Yet despite "Carpool Karaoke"'s popularity, lately it would appear that between minor on-set injuries and last-minute cancellations by talent slated to appear in the passenger seat, the series might be doomed.
Most recently, it was Ariana Grande who got hurt while filming a segment. She shared videos to her Instagram Stories on Tuesday, explaining that her day was "off to a wild start" and showing off a bandage on her injured hand. Grande eventually hinted that whatever caused the injury made it into the final cut of her "Carpool Karoake" segment, and that audiences would solve the mystery once the episode airs.
At least Ariana Grande showed up, though. The same cannot be said for Kanye West, who will probably never make an appearance on "Carpool Karaoke" no matter how much any of us will it to be. Those cancellation costs are no joke, either. In fact, because West decided to back out of his planned "Carpool Karaoke" appearance on The Late Late Show, he reportedly cost Corden $45,000. Corden told Kris Jenner during a game of "Spill Your Guts or Fill Your Guts" on Tuesday night that West had canceled on him at least two or three times. Once, when Corden was waiting right outside of the West residence, waiting to pick him up, the rapper's team canceled for him at the eleventh hour and then sent flowers and Yeezys to Corden in an attempt to make up for it later.
Is it really worth it to lose $45,000 for just one episode, or to have a beloved pop star bleeding—while smiling, of course (Grande said she was doing both on her Instagram Stories)—on camera? And shouldn't shenanigans be kept to a minimum when you're sitting in the front seat of a moving vehicle? At least for now we know that seat belt safety is a priority, as every episode begins with a clicking sound to hammer home the idea that Corden will not be driving Hollywood's precious cargo without buckling up first.
Related: Shawn Mendes's "Carpool Karaoke" Is The Most Canadian Episode Yet