Shawn Mendes's "Carpool Karaoke" Is the Most Canadian One Yet
Has The Late Late Show ever seen a more polite guest?
---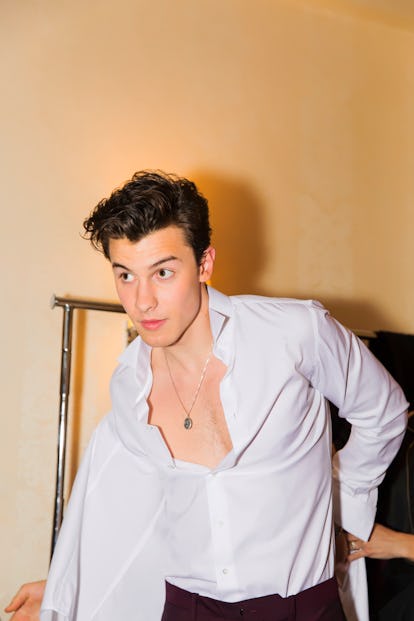 LEVI MANDEL
There are few things more Canadian than a Shawn Mendes appearance on late-night television.
The heartthrob's takeover of The Late Late Show With James Corden, which was perhaps the most Canadian episode of the series yet, included mentions of Justin Bieber (Canada's official bad boy), his discomfort with yelling at people (he's just too nice, as per the country's tradition) and, obviously, a quick game of ice hockey.
In the episode, the 19-year-old speaks with James Corden about how he recently moved out of his parents' home in Toronto and into his own place (though his mom will occasionally come over and do his laundry), how much he'd pay for Justin Bieber's underwear (he tells Corden he'd cap it at $500 maximum, but he'd want to know exactly what Bieber did while wearing the underpants to make it a worthwhile purchase), and his obsession with all things Harry Potter—all in between launching into his own karaoke renditions of "There's Nothin' Holding Me Back," "Mercy," and singles from his latest album, including "In My Blood" and "Lost in Japan."
When Corden asks Mendes if he ever succumbs to road rage, he gives the most polite reply—the singer insists that he's too nice to even honk, let alone get into a fight. So Corden convinces him to yell expletives at a passing car. Rather than arguing with a stranger on the road, "we would have to just get out and hug them," Mendes says with a laugh.
But the singer-songwriter admits that the most Canadian aspect of his personality is that he played ice hockey for a couple years in the past. He then asks Corden, "You'd be scared to do it though, eh?"
Of course, the duo then hits the ice, and Mendes proves he really is Canadian by skating and shooting hockey pucks with ease—before helping Corden up from a fall.
Related: Shawn Mendes Opens Up Before His First Met Gala About His Friend Hailey Baldwin, Being a Romantic at Heart, and His New Music