Cate Blanchett Will Be Doing Her Best Marina Abramović Impression for Documentary Now!
The Cate will be present!
---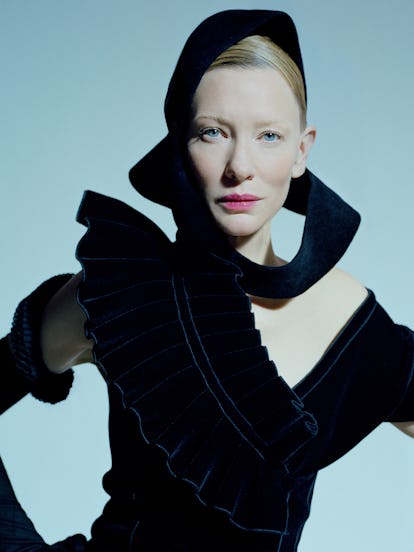 If you didn't see last year's Manifesto, then you might not be aware that there is no persona Cate Blanchett can't take on. Soon, that will include Marina Abramović. The actress is gearing up to do her best impression of the divisive artist in the upcoming season of IFC's Documentary Now!
The episode, which is due out around the time of the March 22 release of Blanchett's upcoming film Where'd You Go, Bernadette, is really going to be something. In it, Blanchett will be playing an Abramović-type artist named Izabella Barta, who "feels pressured to put on the show of her life," a nod to Abramović's 2010 performance piece turned documentary, The Artist Is Present. At the same time, Blanchett's character will be reunited with her former fling, "an infamous provocateur of the art world" named Dimo Van Omen, played by the series star Fred Armisen. Luckily for Blanchett, she has real-life experience to draw from, as she and Abramović once met at a "Blue Jasmine" luncheon thrown by Sony back in 2013, as IndieWire notes.
A statement about the upcoming episode, titled "Waiting for the Artist," confirms that Blanchett is a renaissance woman. "Cate's portrayal of an art-world superstar has her doing it all: performance art, comedy, and even her own stunts," the IFC general manager Blake Callaway said.
There is no shortage of comedic material for Blanchett to mine. Abramović's performance piece and subsequent documentary weren't without some notable hiccups. For one, there was the whole fiasco with Jay-Z, whose experience at her exhibit later made a cameo in his "Picasso Baby" video. Abramović later revealed that she had agreed to that so long as the rapper donated $2 million to the construction of her Marina Abramović Institute. Abramović, however, later denied that he had, before Jay-Z's team produced a receipt and the artist's team issued a formal apology.
There was also the issue of Abramović having to radically change her lifestyle to accommodate the performance. "Six months before, I became vegetarian," she recalled on MoMa's website. "I eat at certain times because of digestion. I never went to the bathroom. After the second day of the performance, [I realized] it will never happen. I take the last pee at 8 in the morning. In the evening when I sleep, this was really difficult to train. I have to take water every 45 minutes and sleep, and 45 minutes and sleep, because not to dehydrate during the night. But then during the day I didn't [have to pee]… This piece, I think it's the most difficult task I've ever done." For Blanchett, who will have bathroom breaks, it will be slightly less difficult.
Related: Cate Blanchett Plays a Spider Woman Looking for a Mate to Kill in Surrealist Film Teaser