Catherine Keener Hates Fashion Week, But Made an Exception for Opening Ceremony: "This Isn't a Fashion Show"
Midway through New York Fashion Week, Opening Ceremony's friends and collaborators pause to take in a dance recital directed by Spike Jonze.
---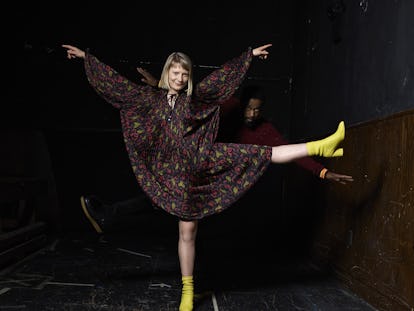 Brigitte Lacombe
The crowd at Opening Ceremony's New York Fashion Week shows always features an eclectic cadre of non-fashion week regulars, both on stage and in the audience. But at the brand's Pre-Spring 2018 show Sunday night, it skewed even more New York-Hollywood than usual, with unexpected faces like Catherine Keener, Jonah Hill and Edward Norton appearing among a sea of theatergoers that also included Kim Gordon (an Opening Ceremony collaborator) and her daughter, Coco Gordon Moore, Courtney Love, David Byrne, Michael Stipe, Kelela and Tinashe. After all, the occasion was also the debut of director Spike Jonze's first live dance performance at New York's legendary La MaMa Theater—a new 30-minute piece called Changers, starring Lakeith Stanfield and Mia Wasikowska as a couple who begin to grow apart, though not without wearing a lot of looks by Opening Ceremony.
Around 7:45 p.m. on Sunday, actors Alia Shawkat and Aziz Ansari entered the theater's foyer, where waiters wandered through with trays bearing Impossible Burgers. (Marked with tiny flags reading "Impossible," the vegan patties were a counterpoint to the Shake Shack spread that was served the previous night at Alexander Wang's show.) Shawkat, who had just dropped in on New York Fashion Week for the Opening Ceremony show, was about to embark on the next season of Arrested Development back in Los Angeles, having just finished the second season of Search Party.
"Death. Passion. Love," she deadpanned, describing the new season. "It's a lot scarier this season. Realities are a little heavier. It's kind of got a Hitchcock tone to it—everything's stylized in that way of panic and doubting your own thoughts and feeling crazy," she went on, "So it's kind of mirroring how everyone's feeling right now."
Shawkat has dropped in on New York Fashion Week in years past for Opening Ceremony: A year ago, she appeared in brand's "Pageant to the People," the pre-election performance the brand had staged at the Javits Center emceed by Carrie Brownstein and Fred Armisen that starred Rowan Blanchard, Jessica Williams, and Natasha Lyonne, among others; and in 2014, she also performed in the Spike Jonze and Hill-cowritten play 100% Lost Cotton at the Metropolitan Opera. She recalled looking out at the crowd and spotting Yoko Ono in the front row, "when I'm, like, having to sing a Drake song. I'm like, 'Alright, this is fashion,'" she said.
Inside the theater, Shawkat's 100% Lost Cotton costar Keener, newly blonde, held court among the audience. She had come to support frequent collaborator Spike Jonze most of all, but she also recently appeared in Get Out with Stanfield, who appears in Changers. She had seen the 6 p.m. show earlier in the day, and was back for a second viewing: "This isn't a fashion show," she declared, citing the artists who had passed through the theater like Sam Shepard and O-Lan Jones. "It's La MaMa," she said, gesturing grandly to the space and repeating, "It's La MaMa, it's classic."
I mentioned I had spoken with Shawkat, and Keener whipped around excitedly, scanning the crowd. "That little f–ker," she said affectionately. Like Shawkat, Keener had really only braved fashion week for Opening Ceremony and Jonze; two nights previously, she had attended the Harper's Bazaar Icons party as a last-minute addition to the guest list. "I was such a fish out of water," she said, describing the affair as "hideous." Will she be participating in any more fashion week? "God, no," she said—after all, she's about to take her son to college.
Courtney Love soon drifted into the theater, and Keener greeted her with a kiss. The front row assembled and took their seats as the house lights went down and Frank Ocean's cover of the Isley Brothers' "At Your Best (You Are Love)," the song Aaliyah famously also covered on her 1994 debut, began to play. As with the rest of the show, even the music reflected Opening Ceremony and Jonze's support of their friends and collaborators: Jonze is, reportedly, working on a project with Ocean (he wrote Changers in part while on tour with the musician this summer), and the soundtrack also included the Yeah Yeah Yeahs' "Rockers to Swallow" (Karen O wrote songs for Jonze's Where the Wild Things Are) and LCD Soundsystem's "Dance Yrself Clean" (Jonze directed the band's video for "Drunk Girls").
As theater, Changers was Opening Ceremony's most seamless integration of fashion and performance to date, with a narrative Jonze devised based on the "girl power" and "transformations"-themed collection Lim and Leon had already begun designing. The designers regularly show their clothes in ambitious presentations, and dance above all; in addition to the aforementioned "Pageant to the People" and 100% Lost Cotton, last season, they worked with New York City Ballet choreographer Justin Peck on a new work, The Times Are Racing, with a score by Dan Deacon, and for the debut of the collaboration between Kenzo (for which they also serve as creative directors) and H&M, Jean-Paul Goude art-directed a blowout dance party choreographed by Ryan Heffington. (Heffington, perhaps best known as the choreographer behind Sia's "Chandelier" video, also provided the moves for Changers.)
But, according to Leon, Changers was also something apart from their previous dance collaborations, as it was also the first time Jonze had directed a dance performance live. "We've been doing a lot of firsts," Leon said after the show, citing Jonze's first photo exhibition, which went up for one night during Opening Ceremony's Fall 2015 presentation. (Incidentally, the exhibition featured an image of Sonic Youth; Opening Ceremony's web of friends and collaborators—"our family," Leon described them—is a dense one.) And while Wasikowska has a background in ballet, it was also Stanfield's first full-length dance performance; both had auditioned for their parts and Leon was confident "they could kill it," but Stanfield's main dance credit was the swivel move he pulled when Atlanta won at the Golden Globes earlier this year and subsequently went viral. (He broke it out again as he took his bow after Changers on Sunday night.)
Though Changers is only narrated by Wasikowska for a brief scene at the beginning (and by Stanfield before that, urging audience members to turn off their phones and cozy up to their neighbors), Jonze still wrote an entire script for his actors, providing them with something of an internal monologue as well as a fully fleshed-out narrative. Recurring dance motifs take the place of dialogue, and character development is implied through choreography and fashion.
"It's almost like he made a movie," Leon said.
After the show, Jonze caucused with Norton in one corner of the risers, the actor apparently giving notes as Jonze nodded and mimicked a move Mia Wasikowska's character repeated throughout the show. A group of friends lingered nearby, and Love offered her final thoughts on her first Opening Ceremony show (consenting to speak with me "only if it's about my clothes"): "I thought it was fantastic," she said. "Spike did a really great job, they did a really great job," she added, nodding to Lim and Leon nearby. And her review of the music? Also "fantastic."
The show opens to the general public for a four-night run at La MaMa this week; proceeds from ticket sales will benefit Houston's Hurricane Harvey Relief Fund.
James Corden reveals the secret to a great karaoke performance: