Lakeith Stanfield Makes Everything Beloved Even Better, From Atlanta to Get Out to His New Movie Crown Heights
The 26-year-old actor on his new drama Crown Heights, unexpected calls from Jay Z, and refusing to play stereotypes.
---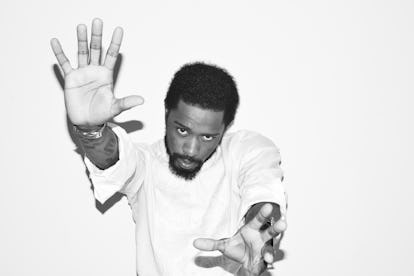 Photo by Alex Hodor-Lee for W Magazine.
Lakeith Stanfield was in a pretty good mood. The breakout star of FX's Atlanta was nearing the end of a full day of press for his new movie, the biographical drama Crown Heights, and ours was his final interview. He skittered from one corner of his hotel suite to another while the camera snapped, humming occasionally and gamely posing. It was the middle of the afternoon; that night, Crown Heights premiered at Manhattan's Metrograph Theater.
In the film, Stanfield stars as Colin Warner, a Trinidadian man wrongfully convicted of murder in 1982 in Brooklyn who spent the next two decades in prison before he was finally exonerated in 2001. Crown Heights centers on the dual efforts to free Warner—his own, from inside the prison, where he spends countless hours in the law library, earns his G.E.D., and begins studying at community college; and that of his best friend, Carl King (Nnamdi Asomugha, the former Oakland Raiders cornerback, the husband of Kerry Washington, and a financier of a fellow Sundance favorite Patti Cake$), a fellow Trinidadian immigrant who spearheads Warner's appeal and whose family fractures in part because of his single-minded focus on freeing his friend. Found footage of presidential addresses by Reagan, Clinton, and Bush, Sr., break up different phases of Warner's incarceration, juxtaposing the policies of white men in power against the toils of men of color subjugated by those systems. And while Crown Heights focuses on Warner's case, the title alludes to a heartbreaking moment in the film: "The whole neighborhood knows what happened," one character says. That is, everyone knows, but no one will say, that Colin Warner is innocent.
The film premiered to a rapturous reception at the Sundance Film Festival earlier this year—"Tears of joy," Stanfield recalled, "Standing ovations, tears of joy"—and went on to win the festival's Audience Award for U.S. Dramatic Film. The audience reaction at the screening I attended a week before the premiere was quieter, but no less engaged—"Motherf—er," a woman behind me muttered at one climactic moment. "I'm so f—ing emotional," she added as the credits rolled.
Sophomore writer-director Matt Ruskin adapted Crown Heights from a 2005 episode of NPR's This American Life entitled "DIY." Two years ago, Ruskin reached out to Stanfield about starring in the film; at the time, the now-26-year-old actor was unfamiliar with Warner's case and set about educating himself. Ruskin provided him reams of court transcripts, interviews, recordings, and news articles from throughout Warner's incarceration—"all cool little gems," Stanfield said.
He also made the rounds at prisons, speaking with inmates; he worked with a vocal coach to hone his Trinidadian accent ("It's so easy for us to go into a Jamaican accent," he said); and he spent a lot of time alone, which was facilitated by relocating from Los Angeles to Brooklyn, where he knew few people. "I spent a lot of time in my apartment," he recalled, "just…" He trailed off and exhaled a zen "Ohm."
But perhaps Stanfield's most valuable resource was Warner himself, with whom he consulted while preparing for the part.
"I took a backseat and allowed him to guide how much he wanted to say, what he wanted to tell me," Stanfield said. "Obviously, duh, it's very f—ing personal to him, so I wanted him to only tell me what he wanted to tell me." Warner opened up to Stanfield, inviting him into his family (when Stanfield and I spoke, Warner and his family were in a hotel suite down the hall); they blessed him at a small shrine in their home just before he embarked on shooting in late 2015. ("I was like, sick," Stanfield said. "I took all of that and ran with it.")
Since Crown Heights wrapped, the country has witnessed plenty of racial strife and violence. Yet for Stanfield, the events of the past year have not changed the tone of the film; they are merely an indication that the conversation is more necessary than ever. "The struggle's been the same for me. I thought this was a very important issue from the beginning," he explained. "It's a sobering moment to be like, 'Here's some real things we could be concerned about.'" Nor have the 16 years that have elapsed since Warner was liberated done much to dull its resonance: "If anything, we've only gone further in the wrong direction," he said. "It'll never be too late to talk about this."
For all the weighty issues embedded in Crown Heights, Stanfield maintains an antic edge. "Back problems for days, bro," he said of Warner's prison cot. Alternately buoyant and pensive, Stanfield has been a shape-shifter throughout his career; he made his debut in the film Short Term 12 (which also launched the careers of Rami Malek, Brie Larson, and Kaitlyn Dever) and has since appeared in the Jordan Peele horror satire Get Out, Donald Glover's TV series Atlanta, The Incredible Jessica James alongside Jessica Williams, Ava Duvernay's Selma, and as Snoop Dogg in Straight Outta Compton. (That's just a part of the list.) He's also an accomplished rapper in his own right, and lately, he's thought about venturing into fashion. "I might start making hats," he said. "Customized captain hats," because "the world kind of seems like a stale sea to me. We're all little fishies," he added.
Recently, he also turned up in Jay-Z's "Moonlight" music video, a racebent version of lily-white Friends in which Stanfield plays Chandler. They recreated, shot-by-shot, the opening credits for Friends—albeit set to Whodini's "Friends"—and reenacted, word-for-word, a scene from the episode "The One Where No One's Ready." Before he signed on, Stanfield had heard rumors he was being considered for a part in a new Jay-Z video—but when the rapper called his cell phone, Stanfield was unprepared. Surprise: Jay-Z doesn't turn up on your caller ID.
"I heard his voice, and I was like, Shit," Stanfield recalled. "He was like, 'Yeah, it would be really important to me if you would be a part of this.' I was like, 'Okay, cool.'" Then, he hung up the phone, "and was like, Oh, shit."
If there's one common thread that runs through Stanfield's screen work, it's that his roles confront the lived experiences of black Americans at different points in history, whether it's comedy or drama. "A lot of times in Hollywood, there are depictions of blacks that aren't really real humans. They're just versions in people's minds of what they perceive black people to be, or poor people," Stanfield told me. "I just won't play stereotypes and tropes."
"Once I and everyone else are accepted as humans, then the possibilities are endless," he continued. "Then, you can see us encompass any kind of different character. But sometimes you need to first realize I am a human, too—then, boom, let's roll." I suggested Jessica James as such a film in which blackness was treated as a norm, rather than being addressed explicitly (Jay Z's Friends also fits this mold). Stanfield did not disagree but added: "We have to, as an audience, become ready for movies like that," he said. "The fact that it doesn't mention race is negated by the fact that people mention that it doesn't mention race."
Brie Larson ran from boulders at her Indiana Jones-themed birthday party: