Catherine Zeta-Jones Says She and Michael Douglas Have an "Open Marriage," Doesn't Mean That Kind of Open Marriage
She and Michael Douglas are (probably) not swingers.
---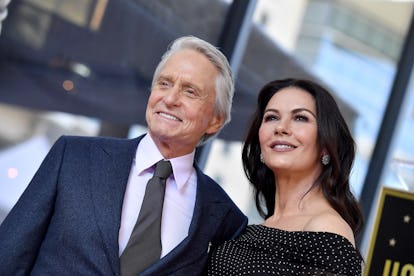 Axelle/Bauer-Griffin/FilmMagic
After nearly two decades of marriage, we still know so little about the inner workings of Catherine Zeta-Jones and Michael Douglas's relationship that it wouldn't even come as a total surprise to learn that the pair are swingers. But that's probably not what Zeta-Jones meant when she told the Today show's Hoda Kotb and Savannah Guthrie this week that she and Douglas have an "open relationship."
On Tuesday, while promoting her new Facebook Watch show Queen America on the morning program, Zeta-Jones was asked about her recent revelation to U.K. newspaper The Times that she sat down with Douglas and their two children to discuss the #MeToo allegations of sexual misconduct against her husband. "First of all, I'm so happy that we've made it to be 20 years together. It's been great," she told Guthrie and Kotb. "But I think it's just unfathomable to me that you would be with one person for 18 years, and things are not rosy every day. They're just not. My mother and father were married for 52 years and they were a wonderful blueprint for me, because I've seen the good, the bad, and the ugly with them, and they're still going strong."
She continued, "Both Michael and I have a very open relationship. When you have kids that didn't ask to be born into a world where it's scrutinized or looked into, you've got to be open and honest and share things that, probably, people at the drugstore wouldn't share over the counter." There you have it: Are Zeta-Jones and Douglas swingers? No. Do they speak openly and honestly with each other and their family about issues that arise? You betcha. Should the actress reconsider her usage of the term "open relationship" so as not to spark clickbait-y headlines and mass confusion? It would certainly help!
In explanation as to why, exactly, she and Douglas are so "open" with each other, the Wales-born Zeta-Jones said, "I'm a big European kind of family girl, and so everything is shared around the table—issues with my daughter: if she's feeling insecure, she's a teenager, girls can be mean; my son just going off to college: what that is for him and what this is for me." She added, "All these conversations get around the table, and then I think you clear the air and everyone knows what's going on. There's no big surprises."
In January, journalist Susan Braudy told NBC that Douglas had sexually harassed her when she worked at his production company in the 1980s; before the report had been published, Douglas denied it in a preemptive interview with Deadline, saying, "This is a complete lie, fabrication, no truth to it whatsoever."
In her interview with The Times last weekend, Zeta-Jones said she had a "very big conversation" with Douglas and their kids, 15-year-old daughter Carys and 18-year-old son Dylan, after the accusations surfaced. "My children and I were profoundly devastated by those allegations," she said. "And I was torn about where my absolute morals lie."
Related: Meet Catherine Zeta-Jones's Doppelgänger Daughter Carys Zeta Douglas