Catherine Zeta-Jones Is "Prom Proud" of Her and Michael Douglas's Son, Dylan
The 17-year-old scion is now officially in competition with his sister for the family spotlight.
---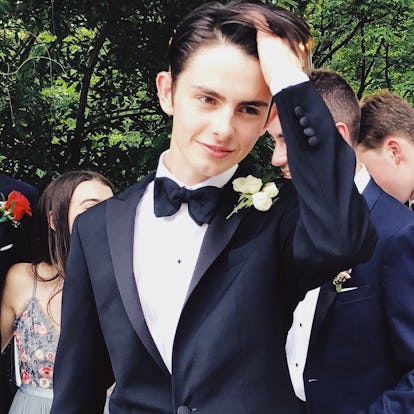 Courtesy of @catherinezetajones
Though she's only 15, Carys Zeta Douglas, Catherine Zeta-Jones's daughter with Michael Douglas, turned heads last month when she was her mom's date to the final leg of Dolce & Gabbana's over-the-top fashion extravaganza in New York, making everyone see double. Now, just before this month comes to an end, her 17-year-old brother is stealing the spotlight; over the weekend, Dylan Douglas made like an ordinary teen and went to prom—and also ended up making headlines in the process.
That's thanks in large part to the fact that on Sunday, his mom, Zeta-Jones, shared a gallery of him in his tux to her million-plus followers on Instagram, gushing about how "prom proud" she was of him. She also mentioned that his graduation is "around the corner" and that he's college-bound. (There's no word on which school he's attending yet, though it's doubtful his dorm room will live up to his bedroom at home.)
Indeed, there's not too much out there about Dylan; he's posted less than 50 times on his Instagram, even though his first was back in 2013, and has a mere 11,000 or so Instagram followers, while his younger sis already has 54k. Not that there seems to be any rivalry between them; they're definitely not afraid to get close. (He's called her his "best friend" and "partner in crime," while she's in turn called him "the person i couldn't live without.")
They might just be teens, but as of December, they're also actually both aunts and uncles thanks to their 39-year-old half brother, Cameron Douglas.) Otherwise, though, while Carys is clearly getting into fashion, Dylan's passion seems to be music; he plays guitar and is quite the massive fan of the Rolling Stones. He's also been open about his experience with dyslexia, which his father told the Guardian he had back in 2010 and which he's since participated in fund-raising research and support for. As for the rest of his interests, he seems to be rather pro-Bill Clinton and anti-Donald Trump. Aside from his sister, though, his all-time fave seems to be his grandpa Kirk Douglas, whom he seems to be on a mission to prove that, even at 101, he's "still sexy."
As for Dylan himself, get to know a bit more about the teen via his dispatches from, say, the fam's luxurious vacations, here.
Related: Meet Catherine Zeta-Jones's Doppelgänger Daughter, Carys Zeta Douglas
Photos: A Night of Shining Stars
Catherine Zeta-Jones and Michael Douglas. Photo by Getty Images.
Debbie Allen. Photo by Getty Images.
Raven Symone. Photo by Getty Images.
Daniel J. Watts and Joe Lanteri. Photo by Getty Images.