Extension 411: The Secret to Every Hollywood and Instagram Star's Perfect Hair
In pursuit of longer, thicker hair, one writer tries on hair extensions for size.
---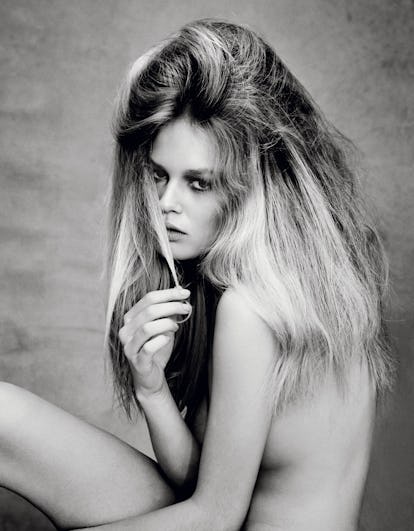 Photographer: Patrick Demarchelier Styled: Felicia Garcia-Rivera
Mention hair extensions and what comes to mind are the bad, cheesy ones sported by the tabloid starlets of the early 2000s. There's no need to name names here—you know who I'm talking about.
In recent years there have been plenty of celebrities, from Kylie Jenner to Christina Aguilera, who have been vocal about ditching their extensions. But if you think that the rise of lobs and bobs means that extensions are no longer in vogue, think again. The truth is extensions still abound in Hollywood—it's just that they look so good that you would never know they are even there. Look at a coffee table full of glossies covered with A-listers and their impossibly shiny, voluminous, and ever-glamorous long hair. You can go ahead and stop comparing your hair to theirs right now because I'm going to tell you a secret: Just about every single one of them has extensions (or a wig, in many cases).
Last year, celebrity hairstylist Jen Atkin, who handles the locks of the Kardashians, Jenners, Hadids, and Chrissy Teigen, told me in an interview for W: "It's 2017. If you're not born with the hair you want, buy it." With those words in mind, I decided to shed my expectations and give 2018's extensions a try.
I have struggled with volume and length since my early 20s and have tried just about every hair-growth supplement under the sun—with no success. So if this is what the celebrity, supermodel, and Instagram starlets are doing to get their luscious locks, why not give it a shot?
I had entertained it before, but I feared ending up with Paris Hilton-esque locks (a great look for her, but not exactly me), plus the hair damage from extensions can be severe. While the idea of having long, luscious locks was most certainly alluring, I was hesitant at first.
Enter Amanda Scott at Serge Normant at John Frieda's New York salon.
When I arrived for my consultation at the salon, which counts Sarah Jessica Parker, Julia Roberts, and Blake Lively among its clientele, one of the first things Amanda asked me as she assessed my hair, was: "How committed are you to this? What are your goals?"
Amanda explained to me that extensions are indeed a commitment. (We're not talking about the kind you can buy in a drug store.) For anyone who is going to get extensions or already has them, it should be a red flag if your specialist does not do a consultation in which they lay out your options in terms of types of extensions and the care they will require, as well as the details of the pricing. (Be warned: They can cost thousands of dollars).
"I think a lot of women dive into the world of extensions without fully thinking about the financial investment required and the amount of maintenance that will be needed," says Scott. "Also, people should be careful about who they choose to work with. A thorough consultation with a stylist will help determine if that person is right for you. Hair extensions have a bad reputation as damaging, and that can be true if you work with the wrong person."
I'm not the type of girl who goes for blowouts every other day or even every week. (Who has that kind of time?) My typical hair routine involves shampoo, conditioner, a spritz of sea salt spray, and perhaps a flirtation with a curling iron, so I decided I wanted the hair that required the smallest time commitment on my end and could last for about six months. (You can get them taken out whenever you want, but it's good to know when deciding what kind you get to know whether you want to have extensions for a year or more, or just a few months). Amanda, who does two types of extensions—Klix, which can last up to six months with consecutive wear, and Easihair Pro, which can last up to a year with good care—patiently listened to my long list of silly questions and wisely suggested that I go with Klix.
At my next appointment, I had the long hair I had always wanted—and had not had since I was probably a teenager—in about an hour. Klix, made of 100 percent virgin Remy human hair, comes in all different shades and Amanda had expertly picked out a blonde that mixed in well with my array of highlights. (Giancarlo Carollo, a hair-color genius at Serge Normant at John Frieda, also worked his magic to blend my colors so it was a perfect combination of ashy and gold tones to make it all look natural.) The hair comes in pieces that are placed discreetly near the scalp and attached to strands of your natural hair with no tape or glue required, meaning they are supposed to be non-damaging.
"Not all hair extensions are created equal," says Scott. "Individual extensions (like Great Lengths, for example) will most certainly cause damage to the hair. With any type of application like that, as the extension grows out, it can twist and cause breakage because it doesn't lie flat and isn't wide enough to prevent rotating. Some names for that kind of application are beads, cold fusion, microfusion, microtips, glue tips, bonds, and strand-by-strand."
I'll admit, when Amanda was first putting the extensions in, I was slightly terrified only because the hair comes really long (like Cher-hair long). But after she trimmed my hair and Giancarlo colored it, I was feeling confident in my once-mousy-and-unremarkable-turned-Hollywood-ready hair.
Before I left, Amanda made sure to give me the full run-through on maintenance. "Try to wash your hair in the morning and let it air dry if you can. If you can't do that, try not to brush it too much when it's wet; blow dry it first and then comb it out with a Wet Brush just like you would with your normal hair," she said. (Hair is most elastic when it's wet, making it more prone to stretching and breaking.) If you don't have a Wet Brush, she suggests a paddle brush. Avoid a boar brush.` and whatever you do, don't use a T3 or a Dyson blow dryer, as they produce too much heat, according to Scott.
Will people be able to tell this isn't my hair? Is it too much? I wondered as I walked down 23rd Street. On my first outing with my new hair, friends instantly commented on how nice it looked, but it was just subtle enough that they couldn't seem to put their finger on what was different. In my mind, that was a win.
It took some time to adjust to my hair and the care it required. It soon became clear what Amanda meant about commitment.
For starters, blow drying my hair took twice as long as I was used to. I carefully braided my hair each night to protect the hair from tangling or breaking while I slept. I diligently took my 10,000 micrograms of biotin each day to help my own hair, used Snob Girls Body Dense bio-serum conditioning capsules (as Amanda says, extension hair loves leave-in conditioner), and used John Frieda Miraculous Recovery conditioning products regularly. Every four weeks or so, I visited Amanda to have the extensions tightened and adjusted. The process was usually quick and painless and I was out of the salon in about an hour or less. A few times, my hair got knotted around the extensions, but even that was a surprisingly easy fix.
Gorgeous locks are not only a commitment but also a financial investment. The Klix hair itself costs anywhere from $750 (half pack) to $1,400 (full pack; price includes the hair, initial installation, and a haircut). Depending on how well you take care of it, it can last up to six months (mine did) until it needs to be replaced with a new set of Klix. Plus, the maintenance every four to six weeks costs $200 to $300 each time. If you go with Easihair Pro Tape-in Extensions, which last up to a year, installation ranges from $300 to $700 (price determined by hair length and the amount of hair). Maintenance for those, which is every eight to 10 weeks, costs anywhere from $300 to $700 each time.
Once I got the hang of washing and brushing my hair extensions, (and started allotting the extra time to actually style it), I nearly forgot the hair extensions were there. At least in the sense that they weren't much more of a struggle than my normal hair. Roughly six months later, it was time to either take them out or put new ones in. I couldn't bear to part ways with my new long-hair look, so Amanda put in a new set of Klix. As she took out the old set and put in the new set, I was scared to look at the condition of my own hair.
Would it be damaged and thinner than ever?
From day one, Amanda was committed to my bigger hair goals, beyond just the instant fix of hair extensions. I had followed her instructions to help with the growth of my own hair and taken better care of my hair than ever before. All of that effort paid off.
"Look how long your hair is! It's growing and healthy," Amanda reported.
As she put the new set of hair extensions in, I felt excited about my hair journey ahead. Vain as it may sound, it's a pretty empowering thing to feel confident in your hair.