Frances Bean Cobain, Karen Elson, January Jones, and More Are Already Prepared for Halloween
Judging by their Friday the 13th Instagrams, at least.
---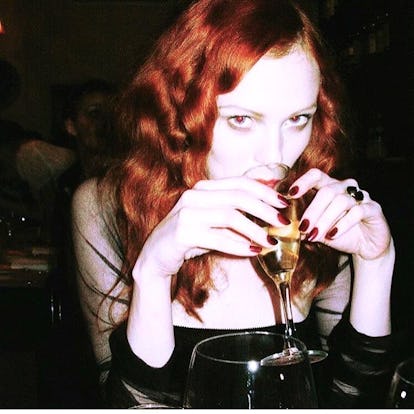 @misskarenelson
Halloween is still more than two weeks away, but there's nothing like a Friday the 13th in mid-October to kick off the spooky vibes. After all, it's a holiday with a cult-classic slasher flick that bears its name, and has always been thought to portend bad omens, when it's best to watch out for black cats and ladders and broken mirrors—and especially strange men in white masks—regardless what time of year it falls. There was a Friday the 13th back in January—but when it happens to coincide with the onset of Halloween season, and the first day of a welcome autumn chill (in New York, at least), it has a particularly uncanny effect.
Perhaps nowhere is that more noticeable than on your Instagram feed (and, of course, in the pumpkin patches upstate frequented by the likes of Uma Thurman and Blake Lively), where the likes of Frances Bean Cobain, Karen Elson, January Jones, and Lili Reinhart are already bracing for Halloween. Reinhart, in particular, is something of a Halloween aficionada who posts images of her elaborate costume makeup during all seasons. Last year, she went as Ziggy Stardust-era David Bowie, but previous high-concept costumes have also included a "broken doll," a Roy Lichtenstein girl, a "pop-art zombie," and Harley Quinn of Suicide Squad. Dilara Findikoglu, the designer for whom it seems every day is Halloween, posted a photo captioned "Me as Lady Justice" (unclear if this was of any relation to Friday the 13th). The model Grace Hartzel and a few friends made a short film called "Final Girl"—a reference to the horror film trope—and Cobain posted a Michael Myers meme. Elson, naturally witchy, posted a photo of herself, captioned, "Happy Friday the 13th from my demon eyes to yours," and musician Phoebe Bridgers Instagrammed herself in a pumpkin patch, writing, "happy Friday the 13th i miss my son" (accompanied by a few of her upcoming U.K. tour dates).
Friday the 13th may be behind us, but it's clear the most playful celebrities across Hollywood, fashion, and music are already bracing themselves for Halloween. See a few of the best pre-Halloween Instagrams, below.
Related: Raf Simons Reimagines Jason Voorhees' Hockey Mask as a Shoe for Calvin Klein Spring 2018
Margot Robbie is here to show you what vegemite sounds like: