Halloween 2017: See Lady Gaga, Justin Timberlake, and More Celebrities In Their Over-the-Top Costumes
Celebrities wore everything from chic lingerie to creepy fake blood this weekend.
---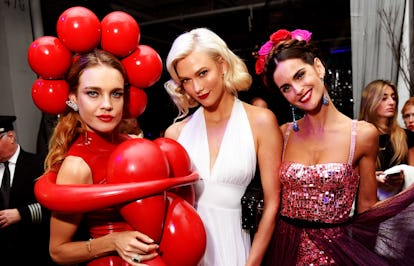 Photo by Michael Loccisano/amfAR/Getty Images
For kids, Halloween is a chance to wear an itchy costume and ask your neighbors for candy. For teens and adults, it's an occasion to drink sugary punch and wear something a little too revealing. But for celebrities, it's a chance to spend far too much time and money on a costume, complete with accessories and a hair and makeup look. And despite the horror movie-level nightmare that is the politics right now, this year was no different, as stars like Adele, Kim Kardashian and Jessica Chastain took time out of their busy and fabulous schedules to dress up and honor everything from the ghoulish to the garish. We've got celebs who are in essentially themed ballgowns, celebs as movie characters, celebs who are barely recognizable and celebs who should honestly dress like that all the time (looking at you with that bobbed hair, Kaia). Check out some of our favorite celebrity halloween costumes below:
The Boogie Nights vibes are strong.
2. Adele as a clown (or doll?)
Whatever this is, it's approved.
Duh.
5. Dua Lipa as Harry Potter
Accio candy.
IconsAsIcons
Is Naomi Campbell even in costume? Does it even matter?
Not to be cliche, but meow.
Watch out for Karlie.
10. Sarah Hyland as Dustin from Stranger Things, with Wells (from Bachelor In Paradise) as Eleven
Too cute to be sucked into the Upside Down.
11. Alana Haim as Claire Danes as Juliet Capulet as an angel in Romeo + Juliet
But where are Danielle and Este as Paris and Romeo?
12. Sarah Michelle Gellar as a unicorn. Or maybe a mermaid.
Whatever it is, it's fun.
13. Busy Philipps as Hedwig from Hedwig And The Angry Inch
Too bad her daughter already won Halloween this year.
The Boogie Nights vibes aren't as strong here, but still pretty strong.
15. Will Poulter as Sid from Toy Story
With an important message!
16. Demi Lovato as Selena Quintanilla
Why didn't Selena Gomez think of this costume, first?
Don't mind the Wonder Woman quote.
18. Gigi Hadid and Zayn Malik as Spideman and The Black Cat
Going strong!
19. Lady Gaga as Edward Scissorhands
She'll cut you.
20. Kylie Jenner and Jordyn Woods as a devil and angel
Nothing like a pair of angel wings to distract for an alleged baby bump.
21. Elle Fanning as Kill Bill's Elle Driver
One way to honor your namesake.
22. Miranda Kerr as a vampire
But a friendly one—there are kids around, after all.
23. Justin Timberlake and Jessica Biel as Toy Story
Always doing the most.
24. Khloe Kardashian and Tristan Thompson as Daenerys Targaryen and Khal Drago
Another way to hide an alleged baby bump.
25. LeBron James as Pennywise
Nope.