Chanel Iman and Sterling Shepard's Surprise Wedding: Everything We Know
Three months after announcing their engagement, the Victoria's Secret model and football player hosted an Instagram-perfect wedding.
---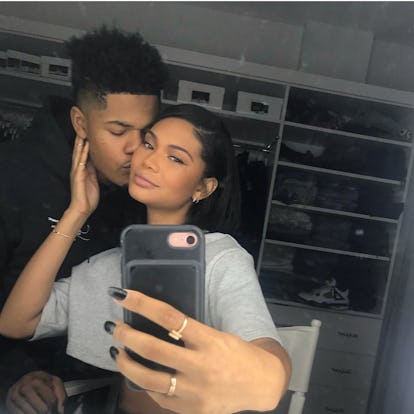 Back at the beginning of December, Victoria's Secret model Chanel Iman and New York Giants player Sterling Shepard announced themselves as potential successors to the ultimate model-football player couple, Gisele Bündchen and Tom Brady, when they revealed their engagement on Instagram. "A night full of tears and happiness," Iman wrote in her caption. "I'm beyond excited to spend the rest of my life with you." Shortly after, the pair celebrated with a party attended by Maria Borges and Odell Beckham, Jr., among others. And on Saturday, just three months later, they made it official during a ceremony at Los Angeles's Beverly Hills Hotel, where a contingent of their closest friends came out to help celebrate their nuptials.
Though few of the attendees—who included Chrissy Teigen, Jourdan Dunn, Beckham, Jr., and stylist Monica Rose, who works with both Teigen and Iman—posted images to their Instagrams, many of them documented the evening on their Instagram stories, taking their followers behind the scenes of the elaborate fête. Teigen checked in via Snapchat, taking a selfie with floral cat ears (the perfect accessory to any wedding guest's look, to be honest), while Dunn, a fellow Victoria's Secret model and one of Iman's bridesmaids, offered a glimpse of her getting-ready process, including a face mask and a seat in the hair-and-makeup chair. On the side of the groom's party, Beckham, Jr., was a particularly exuberant chronicler of the proceedings, sharing a multitude of videos of himself and his fellow groomsmen, like Miami Dolphins wide receiver Kenny Stills and even the groom himself, dancing around the hotel in the lead-up to the wedding.
Shepard also included a quick snap prior to the ceremony, in which he showed off the (naturally) football-themed treats—and chocolate-covered strawberries—that would be served at the party. Though some might want to rest up prior to Oscars night—which, presumably, Teigen will be attending—Chanel Iman and Sterling Shepard's wedding was something like anti-Independent Spirit Awards programming. And all this is sure to just be the start, for a model wedding didn't really happen unless it was Instagrammed.
Related: This Week's Model: Chanel Iman